World news story
Strengthening Cooperation between Kosovo and UK Customs Services
Kosovo Customs and Her Majesty's Revenue and Customs sign a Memorandum of Understanding on Cooperation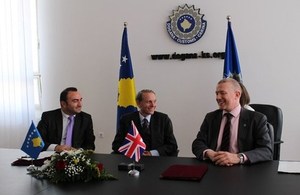 On 25 March 2015 the Kosovo Customs and HMRC signed a Memorandum of Understanding (MoU) in Pristina, building on an already excellent relationship between the two Customs organisations. The MoU covers cooperation in areas such as operations, responding to criminal threats, improving compliance, risk management, intelligence sharing and training and development.
Kosovo Customs and HMRC enjoy strong historic ties, as the Kosovo Customs service was established in 1999 largely on the UK model. Since then there have been numerous exchanges and joint projects aimed at building capacity and supporting Kosovo Customs in carrying out its functions in an effective and efficient way.
At the signing ceremony, DG Rafuna said:
We are delighted to sign this MoU, which enriches the good cooperation between our two countries.
HMRC representative, Andrew Pavlinic said:
This partnership will bring benefits to both countries. This agreement is just a first step which will lead to more cooperation in the future.
Published 26 March 2015