Street named after MOD policeman
A team from Southern Diving Unit 2 in Portsmouth were faced with an initial precarious task of detaching the parachute mine from the vessel before laying it safely on the sea bed.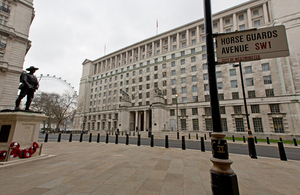 Chief Inspector Jim Gillen, aged 46, is a member of the naval base's Traffic Management Committee and a well-known face at the military site, going back to 1992 when he began as a Police Sergeant at Clyde.
Since then Chief Inspector Gillen has moved around quite a bit during his MOD Police career, but always returning to the naval base where he is currently posted for the third time.
During this latest period at the base he has built up a reputation for getting things done safely, securely and to Clyde's high standards. That's why when his fellow traffic committee members proposed creating 'Gillen Road', it was changed to reflect how they liked things done - the 'Gillen Way'!
Chief Inspector Gillen said:
It's not everyone who gets to have a road named after them. Usually you have to be dead! But in all seriousness I am very honoured and it was a great privilege to officially open the road at the start of this month.
The road, which runs past the naval base's giant £120m Neptune Building Supermess, is one of several new roads named in recent weeks.
Others on the Defence Estate reflect the history of the occupants of HM Naval Base Clyde with names such as Churchill Road, Comacchio Crescent, Swiftsure Street and Trafalgar Way.
Originally from Greenock, Chief Inspector Gillen became a MOD police officer in 1987, working on military escort duties before being seconded to the CID at Rosyth.
A qualified police trainer, he has spent time seconded to Greater Manchester Police and the Prince's Trust volunteers based at Anniesland College where he became project manager for teams working in Anniesland, Possil and Springburn.
Over the years he has also been involved in a revamp of military convoy escorts and the establishment of community policing on the MOD estate.
He has also been seconded to the Foreign and Commonwealth Office as Head of International Policing - establishing and supporting policing missions in Iraq, Afghanistan, Bosnia, Kosovo, Sierra Leone and Sudan.