News story
Strategic Project Funding 2014
Projects funded by the British Antarctic Territory in 2014.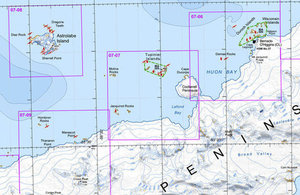 Antarctic Wildlife Awareness Map Series 2nd Edition
HMS Protector, the Royal Navy ice patrol vessel provides important logistical and scientific support for UK research in the British Antarctic Territory (BAT). It is vital that operations are carried out in a safe and environmentally responsible manner, and good maps help to ensure this can be achieved. In particular, there is a need for operations staff to be aware of sites that are vulnerable or sensitive to disturbance, and particularly for Antarctica, the breeding sites of wildlife. With information on the location and nature of wildlife breeding sites, operational plans can be made so as to minimise the potential for impacts.
It was with these goals in mind, that the Cambridge-based consultancy Environmental Research & Assessment (ERA) in 2006 was commissioned to produce the first practical manual identifying wildlife locations on the Antarctic Peninsula and offshore islands for use by HMS Endurance. This Wildlife Awareness Manual (WAM) quickly became integral to Endurance aircraft operations, and was also picked up by a wide range of other national programmes and tourist operators. In 2007 ERA prepared the first edition of the Wildlife Awareness Map Series, comprising eight sheets at 1:250,000 scale, to provide complete coverage of the region's wildlife sites. Also included on the maps are other sensitive sites, such as protected areas and historic sites and monuments, as well as stations and aircraft landing sites.
Earlier this year, as part of the annual strategic project funding, the ERA was funded by BAT to produce the 2nd Edition of the Wildlife Awareness Map Series. This new edition comprehensively updates and improves the topographic basemaps using data from the SCAR Antarctic Digital Database which was verified against satellite imagery to identify the most accurate coastline possible. A shaded relief model for the Antarctic Peninsula was included to enhance visualisation of the topography.
A wide range of sources were consulted to update wildlife data, protected areas, historic sites, and infrastructure. A new feature shown on the maps are 'Important Bird Areas', which were identified in another project supported in part by the BAT Government. BirdLife International and ERA worked with SCAR specialists to identify bird breeding sites in the Antarctic Peninsula region that met BirdLife's global criteria for qualification as particularly 'important' for the species, and these have been incorporated into the 2014 edition of the Wildlife Awareness Map Series.
In October 2014 the draft Wildlife Awareness map series has been distributed to stakeholders for review, and once comments have been received and taken into account, the final version will be published by June 2015.
Published 28 November 2014