Strategic Defence and Security Review published
Prime Minister David Cameron has set out how the Government will go about securing Britain in an age of uncertainty in a review published today.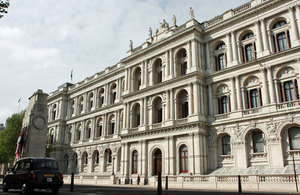 It is the first time that a UK government has taken decisions on its defence, security, intelligence, resilience, development and foreign affairs capabilities in the round, setting out the delivery of the ends as in the National Security Strategy.
This Review will equip the UK with modern defences, including Armed Forces and equipment fit for the 21st century; strong security and intelligence agencies; and diplomats and development aid which can help us prevent threats before they become a reality. The Government doubles the amount of aid we spend in conflict countries, tackling threats at their source.
Speaking to Parliament, the Prime Minister said:
"Our national interest required our full and active engagement in world affairs. It requires our economy to complete with the strongest and the best, and it requires too that we stand up for the values we believe in.
"Britain has punched above its weight in the world, and we should have no less ambition for our country in the decades to come. But we need to be more thoughtful, more strategic and more co-ordinated in the way we advance our interests and protect our national security. That is what this Review sets out to achieve."
In the statement the Prime Minister confirmed that there will be "no cut whatsoever" in the support for our forces in Afghanistan:
"Furthermore, every time the chiefs of defence staff have advised me that a particular change might have implications for our operations in Afghanistan, either now or in the years to come, I have heeded that advice.
"In fact, we have been and will be providing for our brave forces in Afghanistan: more equipment to counter the threat from IEDs; more protected vehicles - like the warthog heavy protection vehicle which will be out there by the end of the year; more surveillance capability, including unmanned aircraft systems; and crucially, at last, the right level of helicopter capability."
Read the Strategic Defence and Security Review - Securing Britain in an Age of Uncertainty [PDF]
Published 21 October 2010