World news story
Stonewall's workplace equality guides introduced in Bolivia
Jasmine O'Connor, Stonewall's Head of International Campaign, visited La Paz and met representatives of Bolivian LGBT organisations.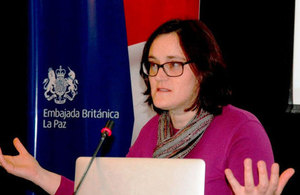 Stonewall is the largest LGBT charity in Britain and has worked there for 25 years. The British Embassy in La Paz promoted and funded Stonewall's visit as part of its Bilateral Cooperation Programme in Human Rights, working in partnership with Bolivian NGO Capacitacion y Derechos Ciudadanos(CDC).
CDC's Programme "Equal in Law" organised two workshops on 12 and 13 March with LGBT activists from La Paz, Cochabamba, Santa Cruz, Oruro and Sucre. They briefed O'Connor about the problems and challenges of the LGBT population in Bolivia and had the chance to do the same for Government officials and members of the Legislative Assembly who attended the working lunches after the workshops.
Jasmine O'Connor shared with them how Stonewall has worked to change laws and social attitudes in the UK – from the repeal of anti-gay propaganda laws to the introduction of same-sex marriage.
On Friday 13 March she gave a conference about why LGBT equality is important and how everyone, from school teachers to business leaders, human rights activists to politicians have a role to play in creating it. She made the 'business case' for equality and argued that people perform better when they can be themselves, and that equality ultimately benefits everyone in society.
She also explained how Stonewall's Workplace Diversity Champions Programme has played a critical role in building equality in Britain and introduced their workplace equality guides. The British Embassy funded the translation of five guides into Spanish, and electronic copies were handed out at the conference.
Published 19 March 2015