Stephen O'Brien visits Somali community in Bristol
International Development Minister Stephen O'Brien today visited Somali diaspora groups in Bristol to outline the aims of the Somalia Conference taking place in London on 23 February.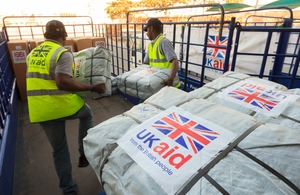 He held round table discussions with community leaders to explain why the Prime Minister called the conference and the benefit it hopes to bring people in Somalia.
International leaders from over 40 governments are due to join a Somali delegation from the Transitional Federal Institutions at a number of sessions with the aim of helping to improve the lives of millions in Somalia and delivering a new international approach to the country.
Community leaders were invited to share their insights into how the conference could help Somalis and the Minister was able to set out the UK's plans for Thursday's event.
Ministers are keen to hear the Somali diaspora's views ahead of the conference, and Stephen O'Brien's visit to Bristol today coincides with the Prime Minister's meeting with Somali youth leaders in London.
International Development Minister Stephen O'Brien said:
The discussions today in Bristol have been fascinating and the people I have met have warmly welcomed Britain's engagement in Somalia. It is positive to note that Somalis living in the UK have taken a great deal of interest in this conference.

There are issues in Somalia that cannot be addressed in one day but we are working hard with Somalis who want to improve the lives of people in the country and this conference will be one step in that direction.
Following the discussion, Stephen O'Brien visited the Maandeeq Centre for Somali traders living in Bristol.
Following the visit, Stephen O'Brien said:
The generosity of the Somali community towards their families still living in Somalia is overwhelming and makes a huge difference to people often facing crippling hunger and drought.

The Maandeeq Centre is a vibrant place for trade and a useful meeting point for members of Bristol's Somali community. I was very encouraged to see the good work going on there.
Published 20 February 2012