News story
Stephen Glaister reappointed as chair of the ORR
Transport Secretary Patrick McLoughlin reappoints Stephen Glaister as chair of the Office of Rail and Road until December 2017.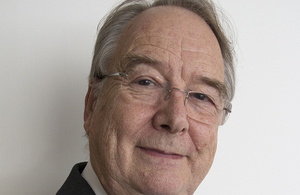 Professor Stephen Glaister CBE FICE FTRF FCGI has been reappointed as the chair of the Office of Rail and Road (ORR) until December 2017, Transport Secretary Patrick McLoughlin announced today (30 June 2016).
ORR is the UK's independent rail regulator and strategic roads monitor for England. Accountable to Parliament, it protects the people who work on, use, or interact with the railway. It also advises the government in ensuring Highways England carries out its investment programme on England's strategic road network effectively.
The reappointment provides continuity of leadership as the government considers the recommendations of the Shaw report on the longer term future, shape and financing of Network Rail and completes further work on its implementation.
Emeritus Professor of Transport and Infrastructure at Imperial College, London, Stephen has been chair of the ORR since January 2016.
Transport Secretary Patrick McLoughlin said:
A strong, independent regulator is essential in maintaining the safe and smooth running of the UK's transport network. I am confident that Professor Glaister will continue to bring leadership to the ORR as we consider the broader shape and structure of the rail industry and ensure Highways England delivers efficiently on its roads programme.

Stephen's wealth of experience will ensure that ORR continues to protect the interests of rail and road users, delivering value for money for taxpayers and for funders.
Stephen Glaister said:
ORR has made great strides this year in progressing the safety, value and performance of railways and roads, for today and for the future. In my first 6 months I have also been hugely impressed by the calibre and commitment of the ORR's staff. I am very pleased to be asked to extend my term for a further year which I feel is an acknowledgement of the progress we are making.
Stephen's appointment will run until 31 December 2017. The appointment was made in line with the Commissioner for Public Appointment's Code of Practice on ministerial appointments to public bodies.
Rail media enquiries
Media enquiries 020 7944 3021
Out of hours media enquiries 020 7944 4292
Switchboard 0300 330 3000
Published 30 June 2016