Stephen Glaister reappointed as chair of rail and road regulator ORR
Office of Rail and Road chair, Professor Stephen Glaster, reappointed.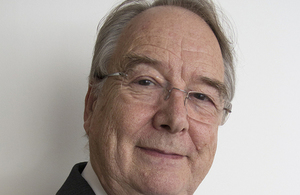 Professor Stephen Glaister CBE has been reappointed as the chair of the Office of Rail and Road (ORR) for a further year.
ORR is the UK's independent rail regulator and strategic roads monitor for England. It protects the interests of rail and road users now and in the future by seeking improvements in safety, value and performance.
Transport Secretary Chris Grayling said:
I am grateful that Professor Glaister has agreed to stay on this year to continue the excellent work he has been doing. It is vital we maintain a strong, independent regulator to deliver a safe UK rail network as well as value for money for taxpayers and other funders. His knowledge and experience will ensure that continues.
The search for a replacement to take up the chair of ORR from 2019 will take place early this year (2018).
Rail media enquiries
Media enquiries 020 7944 3021
Out of hours media enquiries 020 7944 4292
Switchboard 0300 330 3000
Published 4 January 2018