Press release
Stephen Crabb: "Pembrokeshire is punching above its weight with a strong local economy"
Welsh Secretary hails Pembrokeshire's important contribution to the Welsh economy during tour of some of the region's thriving businesses.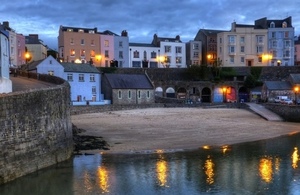 Welsh Secretary Stephen Crabb has hailed Pembrokeshire's important contribution to the Welsh economy today (18 Feb) during a tour of some of the region's thriving businesses.
Mr Crabb began his tour at GenPower; one of the UK's leading providers of Hyundai products, to see how Pembrokeshire's retail sector is creating jobs and strengthening the local economy. In 2015, GenPower appeared in Wales' Fast Growth 50 list for the most rapidly expanding companies in Wales. While there, Mr Crabb was shown the new biomass heating and solar systems together with a new range of garden machinery. The Secretary of State went on to Carew Cheriton Air Tower, one of Pembrokeshire's tourism hotspots, to see how support from the UK Government has helped the sector thrive. The Air Tower, which has been restored by volunteers, offers a range of exhibits including military uniforms, RAF maps, radio equipment and ration books.
Continuing the tourism theme, Mr Crabb visited Bluestone National Park Resort, which has recently announced the creation of 60 new jobs. Mr Crabb was shown over the resort's Blue Lagoon water park and its range of luxury lodges and restaurants.
Welsh Secretary Stephen Crabb said:
Pembrokeshire's strength is without doubt its people. They have the vision, skills, innovation and motivation to create and sustain businesses. It is their enterprise which is putting Pembrokeshire on the map.

The businesses which I have seen today, such as GenPower, Carew Air Tower and Bluestone, are all contributing to the transformation of the local economy. Their success is creating jobs for local people.

The tourism industry, which attracts visitors from around the world, is important to us locally and I want to see Pembrokeshire benefit from this year being designated Wales' Year of Adventure.

As we've seen in the Budget, this Government is committed to ensuring that the benefits of a strong economy are felt across Wales.

Of course, we cannot be complacent and there are areas for improvement across the country - including the need for improved transport links.

But with a buoyant local economy, Pembrokeshire is punching above its weight across the UK.
GenPower Managing Director Roland Llewellin said:
We are delighted to show the Secretary of State for Wales the growth we have achieved over the last few years - for example moving to our amazing new facility and doubling our workforce from 22 to 45 people.

The Hyundai brand is going from strength to strength in the UK and we are looking forward to pushing our business forward with continued growth over the next few years.
Bluestone founder and CEO William McNamara said:
We're very pleased to be recognised as being one of the UK's leading independent short break destinations.

We have continued to grow and expand year-on-year, attracting thousands of new and returning guests to Bluestone and Pembrokeshire each year.

I was pleased to have the opportunity to show Mr Crabb what we are doing here with amazing employees who make the business what it is through their hard work and skills.
Pembrokeshire is an outstanding feature of Wales' tourism offer with its sprawling coastlines, towering cliffs and renowned beaches. The value of tourism to the Welsh economy was demonstrated by recent figures which show that 75 million tourism day visits were made by British residents in 2015 – generating £2,7 million worth of expenditure.
Pembrokeshire's enviable tourism economy is complemented by a buoyant economic picture across the county. Since 2010 Pembrokeshire has gone from strength to strength with 3,000 fewer workless households in the region. It also has an extra 6,300 people in work with increasing numbers employed in small and medium-sized businesses - the backbone of the local economy.
Published 18 March 2016