Press release
Stephen Crabb MP: "Small business is at the heart of economic recovery in rural Wales"
Wales Office Minister visits Newtown's successful small businesses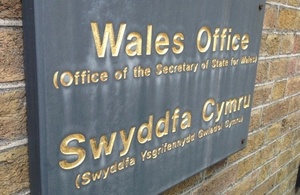 Small businesses are the backbone of the Welsh economy and are creating jobs and boosting growth across Wales.
That is the message from Wales Office Minister Stephen Crabb MP today (15 May) who will undertake a series of visits to Small and Medium Enterprises (SMEs) in Newtown.
Mr Crabb will meet executives from: safety and marine manufacturer, Makefast Ltd; from retail display manufacturer, Stagecraft; and wheel balance weights' manufacturer, Trax JH Ltd. He will highlight the package of measures announced in the Budget to support Welsh businesses.
Wales Office Minister, Stephen Crabb MP said:
I am delighted to take part in this visit, as manufacturing is at the heart of this economic recovery and small businesses are the engine of job creation in rural Wales.

Wales has demonstrated that it is a great place to start and develop a business - small companies have been responsible for the creation of approximately 630,000 jobs.

The UK Government recognises the importance of small businesses in assisting economic growth. That is why last year, we launched our Small Business: GREAT Ambition campaign and package of support for small business.

The measures announced in the Budget further build upon this support. I look forward to discussing the measures with business directly, as I am determined that all parts of Wales should share in the fruits of the economic recovery. This is particularly important in rural communities, where there are often additional challenges to running a business.
Marine and safety hardware manufacturer Makefast Ltd secured its hat-trick of innovation accolades at the Powys Business Awards in 2013. The company exports to countries including the USA, Japan and Australia, and has experienced growth of 12-14% year-on-year.
Mike Mills, Director of Operations at Makefast Ltd, said:
I am very pleased to see that the UK Government recognises the importance of the manufacturing industry as a means of creating jobs and generating wealth for the UK at large. I am very happy to welcome the Minister and look forward to discussing with him some of the specific issues we have here in mid-Wales.
Established in 1990, Stagecraft designs, manufactures and installs a wide range of timber based merchandising displays and shop fittings. The company recently won its largest ever contract from Waitrose, moving to larger premises on the Vastre Enterprise Park, where it currently employs 30 people.
Seb Smith, Managing Director at Stagecraft, said:
We welcome any new measures that assist growth and provide support to manufacturing businesses operating in Wales.
Founded in 1989, Trax JH employs 45 people at its Newtown and Welshpool sites. The company exports to over 25 countries and last year secured a £1 million contract to supply wheel balance weights to Jaguar Land Rover.
John Hallé, Managing Director at Trax JH Ltd, said:
We are pleased to have the opportunity to talk to the Minister today. Over the last 20 years we have taken advantage of the support from the various Welsh government agencies and in particular from Finance Wales.

As a manufacturing company exporting most of our production to the continent, we see energy costs and exchange rates as key features in our battle to remain competitive. Support for manufacturing energy costs is welcomed as are the increases in the annual investment allowance.
Further Information
Budget 2014 measures to support business:
The annual investment allowance is being doubled to £500,000, and will be extended by a further year to December 2015. This means 99.8% of businesses could pay no tax on investment.

Corporation tax has been cut by 1% to 21%. It has fallen from 28% in 2010 and will fall further to 20% in April 2015, making it the lowest corporation tax rate in the G20. Fuel duty is also frozen.

A Business Energy Package will save Welsh businesses, especially those with high energy requirements, up to £240 million between 2016-17 and 2018-19.

Almost 200,000 SMEs in Wales could benefit from a package designed to improve their access to finance. This will see the government consulting on how to better match SMEs rejected for a loan with alternative credit providers.
Businesses in Wales are also able to benefit from:
A new employment allowance which cuts the National Insurance businesses pay by £2,000.

A £1 million sector-specific mentoring scheme will enable firms to benefit from support and advice from experienced business people in their own fields.

A £10 million start up fund launched by the Biotechnology and Biological Science Research Council (BBSRC) to help entrepreneurial scientists in this field to get their business off the ground.

The Business Bank Investment Programme which will provide a boost to small businesses, giving them access to much needed capital

Start Up Loans - crucial support in the form of a repayable loan together with a business mentor for entrepreneurs across the country.

Brand new broadband vouchers – 22 cities across the UK – including Cardiff and Newport - will benefit from £100 million of Broadband vouchers worth up to £3,000 each to help more small firms boost their business by accessing super-fast broadband.

The Business is GREAT campaign website www.greatbusiness.gov.uk bringing together, all the support from across Government.
Published 15 May 2014