Press release
Stephen Crabb MP appointed Secretary of State for Wales
Mr Crabb: "It is a huge privilege to join the Cabinet as Secretary of State for Wales."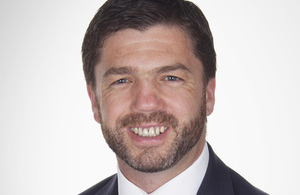 The Prime Minister has today (15 July) announced that Stephen Crabb MP has been appointed Secretary of State for Wales.
In his new role, Mr Crabb will be in charge of representing Welsh interests at Westminster.
Mr Crabb becomes the 17th Secretary of State for Wales, having previously served as Parliamentary Under Secretary of State for the Wales Office.
Mr Crabb said:
It is a huge privilege to join the Cabinet as Secretary of State for Wales. As a government, we are ambitious for Wales and determined that Wales should be at the forefront of the UK economic recovery.

I will be working closely with my colleagues in the UK and Welsh governments to see new opportunities created for Wales. People and businesses across Wales want to see the two governments working together effectively and delivering the investment our nation needs. I believe that Wales deserves the best and I look forward to providing a strong voice for Wales around the Cabinet table.

I will build on the excellent work of my predecessor, David Jones, who achieved so much during his time as Welsh Secretary. He leaves a strong legacy to Wales, not least in breaking new ground in the devolution settlement by devolving tax powers to Wales.

He also worked hard to secure new investment for the new nuclear power station at Wylfa, the new prison in Wrexham and reopening the Halton Curve line between Liverpool and North Wales.

It is a massive honour to be the first Welsh Secretary of State from Pembrokeshire since Nick Edwards in the 1980s. I have an opportunity now to work hard for the whole of Wales in the same way I have always sought to do for Pembrokeshire.

The first priority of any MP, regardless of their position in government, is to put the needs of their constituency first and I will always do this for Preseli Pembrokeshire.
Background:
Mr Crabb was elected as MP for his home constituency of Preseli Pembrokeshire in 2005.
He was appointed to the front bench as Opposition Whip in 2009 and then Assistant Government Whip in 2011.
He has served on the Welsh Affairs, International Development and Treasury Select Committees.
Before being elected to Parliament, Mr Crabb worked as a marketing consultant.
He has also worked for the National Council for Voluntary Youth Services and the London Chamber of Commerce and Industry.
Mr Crabb attended Tasker Milward School in Pembrokeshire and has degrees from Bristol University (BSc) and London Business School (MBA).
He grew up in Haverfordwest, Pembrokeshire. He is married to Béatrice and has 2 young children.
Published 15 July 2014