Press release
Stephen Crabb: "Lowering energy costs vital for international competitiveness of UK manufacturing
Wales Office Minister visits Kronospan in Wrexham to mark benefits of Business Energy Package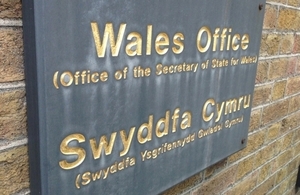 Reducing energy costs will enable UK manufacturing to compete in global markets, and win the global race, said Wales Office Minister, Stephen Crabb ahead of a visit to one of the top ten manufacturing companies in Wales.
Mr Crabb will today (27 March 2014) visit chipboard manufacturer, Kronospan, in Wrexham to mark the announcement of a £7billion package of measures designed to radically reduce the costs of energy policy for every business, household and region in the country.
The measures included in the Business Energy Package, as announced in last week's Budget, is expected to save Welsh businesses up to £240million between 2016-17 and 2018-19. Businesses in Wales will also benefit by around £230million over the same period due to the action being taken to reduce the Carbon Price Floor.
The package has been designed to improve incentives for companies to return their manufacturing to Britain, and help existing firms already operating in the UK to compete in the global race.
As a manufacturing business with high energy requirements, Kronospan is particularly set to benefit from the decision to cap the Carbon Price Support Rate at £18 from 2016.
Speaking ahead of the visit, Wales Office Minister, Stephen Crabb MP said:
The economic picture in Wales, and UK wide, is a rapidly improving one, with the manufacturing sector showing significant signs of recovery.

This Government wants to make that recovery last, and lowering energy costs for businesses is a vital component of this effort. Through the Business Energy Package we have accelerated our efforts to make energy prices more affordable, and to help our UK-based businesses to keep pace with their competitors elsewhere.
Kronospan is the world's largest manufacturer of wood panel products and laminate flooring, employing more than 11,000 people worldwide, including 600 people at its Chirk site.
During the visits, Mr Crabb will meet with Chief Executive Officer, Ludwig Scheiblreiter, and Chairman Mike McKenna to discuss how the manufacturer could benefit from the Government's Business Energy Package, and take a tour of the plant.
Ludwig Scheiblreiter, Chief Executive Officer of Kronospan Limited said:
I am pleased the Government has acted to ensure British Industry is not disadvantaged compared to the competition elsewhere. Addressing the problems of the UK's energy costs and infrastructure is essential for the long term health and development of manufacturing in the UK. So the Government's intervention is very welcome at this time.
While every household and business, no matter their size, will see their electricity bills reduce as a result of the Business Energy Package, it also includes measures to tackle the energy costs of Energy Intensive Industries like steelmakers and the cement and chemicals industries.
In May last year, Stephen Crabb and the Minister for Energy and Industry, Michael Fallon MP welcomed representatives from some of Wales' most energy intensive sectors to Cardiff, to seek their views on how Government can assist them with energy costs.
Wales Office Minister, Stephen Crabb MP added:
I am passionate about ensuring Wales remains one of the most attractive places in the UK for business.

Throughout my time at the Wales Office I have long-championed support for businesses in Wales, holding regular discussions with industry and listening closely to concerns about high energy costs.

The Business Energy Package announced in the Budget is a clear demonstration of UK Government support for industries such as Kronospan, which is an important local family-run business in Wrexham and the world's largest manufacturer of wood panel products and laminate flooring.

I welcome the opportunity to visit Kronospan, which will enable me to hear directly from its senior management team about the positive benefits that this new package of support will bring to their business and, in turn, to the Welsh economy.
Notes to Editors
The Business Energy Support Package includes:
Capping the Carbon Price Support rate at £18.00 from 2016-17 to the end of the decade.
Extending Energy Intensive Industries (EIIs) compensation for the cost of the Carbon Price Floor until 2018/19. *Introducing compensation for EIIs for the costs of the Renewables Obligation and Feed in Tariffs (FiTs) from 2016/17 to 2018/19.
Introducing from 2015/16 an exemption to the CPF for fuels used to produce good quality electricity by Combined Heat and Power plants for onsite purposes.
New measures to make energy markets more competitive for very small businesses and help them use smart meters to cut their bills.
In 2013, the Government brought forward a number of other measures to support energy intensive industries, including:
Exemption for energy intensive industries from additional costs arising from the Feed-in-Tariff Contracts for Difference, subject to state aid law;
Introduction of a climate change levy extension for metallurgical and mineralogical processes from 1 April 2014; and
Compensation for the indirect emissions costs due to the EU Emissions Trading System and the carbon price support mechanism, subject to state aid.
Published 27 March 2014