Steelbacks honoured for Afghan deployment
Hundreds of people gathered on the streets of Bury St Edmunds last week to honour soldiers from 3rd Battalion The Royal Anglian Regiment on their return from a six-month tour of Afghanistan.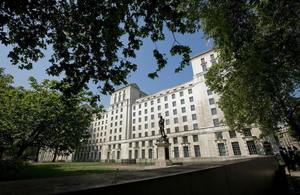 Around 60 Territorial Army soldiers from the battalion - nicknamed the Steelbacks - were on parade on Sunday 23 May to be awarded their Operation HERRICK campaign medals.
Witnessed by proud families and friends, the Mayor of Bury St Edmunds, General Officer Commanding 5th Division, Major General Martin Rutledge, and Deputy Colonel of 3rd Battalion The Royal Anglian Regiment, Colonel Julian Lacey, presented the soldiers with their medals.
Following the parade the soldiers attended a service of thanksgiving at St Mary's church in the town.
Lance Corporal Shane Ruffell, who in civilian life runs his own carpentry business, said:
It was very emotional being on parade. It was great to see such a big turnout. It was deeply appreciated. It's been a great day.
Private Kevin Brailsford described it as 'phenomenal'. A team leader at Tesco in Martlesham Heath, he said:
I was thrilled with the reception we received. I felt really proud when I heard the cheers and clapping, especially knowing it was for all the guys on parade.
A total of 32 soldiers from 11 Platoon deployed to Kabul in September 2009, forming part of the Force Protection Company.
During their six-month deployment they maintained the security of the international headquarters and the busy city centre.
Whilst in Kabul their daily tasks included look-out in the guard towers, manning the gates of the base and conducting searches, internal security escorts and patrols.
They also manned the Quick Reaction Force meaning they had to be ready to react quickly to any incident.
October saw 30 soldiers deploy with the Household Cavalry Battle Group in Musa Qal'ah. Their role was to support the Afghan security forces in the district centre and assist the return to normality. With the soldiers' help Musa Qal'ah has begun to thrive with a busy market and bustling streets and the Afghan security forces have grown in capability.
Most of what the TA soldiers did was reassuring the local population and working with their Afghan colleagues. The soldiers together with their Afghan colleagues were out on the ground in and around Musa Qal'ah every day, chatting with locals and ensuring their security.
The security they provided meant that normal life could resume. During their time there local schools and a health centre were refurbished and a new 70-metre-deep borehole was sunk that provided 23,000 litres of water to the town's bazaar, whilst other small-scale projects provided free seed for farmers and water for local communities.
The battalion, whose headquarters is based in Bury St Edmunds, recruits from across East Anglia and the East Midlands, with companies based in Norwich, Lincoln, Leicester and Chelmsford.
Published 31 May 2010