Stay safe and warm this Christmas
With the country in the grip of what's set to be the coldest December for 100 years, England's Fire and Rescue Services are advising their residents…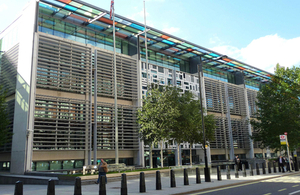 With the country in the grip of what's set to be the coldest December for 100 years, England's Fire and Rescue Services are advising their residents to stay safe as they keep warm and the colder weather continues to bite.
Latest fire statistics show that the number of injuries and deaths from accidental fires in 2008 were at their peak in December and January, while provisional statistics for 2009/10 show that nearly 2000 fires were started by electric blankets, candles or portable heaters last year, resulting in 406 casualties and fatalities.
Fire Minister Bob Neill said:
As the colder weather continues to bite it's only natural that we spend more time indoors and endeavour to stay as warm as possible. There's nothing like a cosy open fire or the added warmth of an electric blanket, but these and other winter must-haves like candles can bring an increased risk of fire into the home.

Make sure you stay both warm and fire-safe this winter and remember to test your smoke alarm every week.  Working smoke alarms save lives.
The Government's Chief Fire and Rescue Adviser Sir Ken Knight said:
Additional measures to keep warm such as heaters are a common sight at this time of year but despite the winter comfort they can bring it's important to remember the risks they bring.

By following some simple rules you can ensure you stay safe and warm and if you are in any doubt over any fire safety issues, your local Fire and Rescue Service are on hand to help and offer advice. We all want to be warm in winter, but we must avoid tragedy.
The Fire Kills Campaign has released the following advice to help you reduce your fire risk this winter:
Fires and Heaters
Open fires can provide a relaxing and atmospheric way to keep warm, whereas portable heaters can be handily moved around but it's important to use them safely:
always use a fire guard to protect an open fire against flying sparks and hot embers and make sure embers are under control and properly put out before you go out or go to bed
keep portable heaters away from curtains and furniture and never use them for drying clothes. Always unplug electric heaters when you go out and go to bed.
Electric Blankets
Electric blankets can help you keep warm during the cold nights, but fires can be devastating with 440 injuries resulting from every 1000 fires started by an electric blanket. Therefore, there are fire safety issues to consider:
never use hot water bottles in the same bed as an electric blanket, even if the blanket is switched off
unplug blankets before you get into bed, unless they have a thermostat control for safe all-night use
store electric blankets flat or rolled up or loosely folded to prevent damaging the internal wiring.
Candles
Candles may also be used more to lighten up the dark evenings. As with open fires, a naked flame brings risks if they are not treated carefully. Make sure that candles are secured in a proper holder, and away from materials that may catch fire like curtains. It is also very important that candles are put out completely when you leave the room or go to bed.
For further information on fire safety please visit www.direct.gov.uk/firekills (external link) or contact your local Fire and Rescue Service to arrange a free Home Fire Risk Check.
Notes to editors
Provisional statistics show that nearly 2000 fires were caused by electric heaters, electric blankets and candles in 2009/10. Figures will be verified upon publication of Fire Statistics UK during Summer 2011.
Don't let your Christmas go up in smoke. Dry Christmas trees, decorations and wrapped presents can all provide means for a fire to spread in the home. This Fire Kills video shows a Christmas tree fire destroy a living room in under a minute http://www.youtube.com/watch?v=hMtjGfr0tYs (external link).
Twitter
Keep up to date with the Department by following us on Twitter (external link).
Media enquiries
Visit our newsroom contacts page for media enquiry contact details.
Published 22 December 2010