World news story
Statement to mark the World Day against Death Penalty
This was published under the 2010 to 2015 Conservative and Liberal Democrat coalition government
On Friday, 10 October, 2014 The British High Commissioner to Sri Lanka H E John Rankin issued a statement to mark The World Day Against the Death Penalty.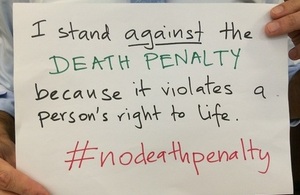 "Today is the fourteenth commemoration of The World Day Against the Death Penalty.
The UK – along with fellow EU Member States – is a strong advocate for the abolition of the death penalty. Its use undermines human dignity; there is no conclusive evidence of its deterrent value to serious crime; and any miscarriage of justice leading to its imposition is irreversible and irreparable.
August this year marked 50 years since the last execution in the UK. Abolishing the death penalty may be neither easy nor always immediately popular. But two prominent cases of miscarriage of justice in 1950 and 1953 persuaded the UK Parliament to restrict the use of the death penalty. It was finally abolished from the statute books in 1998.
There are diverse views about the death penalty. But following an execution mistakes can never be rectified. For many who feel strongly about this issue, there is also the overall view that the first duty of states is to protect its citizens, not to kill them. And for others, forgiveness and the sanctity of human life is a stronger impulse than the desire for a wrongdoing to be avenged through capital punishment.
Although the Maldives has legislative provision for imposing the death penalty, no judicial executions have been carried out since 1953. We urge the government of the Maldives to retain the moratorium on the use of the death penalty in all circumstances, including in cases that involve juvenile offenders, as a deterrent to serious crime.
The vote of the worldwide moratorium on the death penalty comes up in the UN General Assembly later this year. We encourage the government of the Maldives to vote in favour of the moratorium and join the increasing ranks of countries that have abolished it altogether."
Follow our social media campaign against the death penalty #nodeathpenalty on https://twitter.com/UKinMaldives and https://www.facebook.com/bhccolombo .
Document information
Published: 10 October 2014