Statement on school absence statistics for Spring term 2011
Schools Minister Nick Gibb's statement on absence in schools.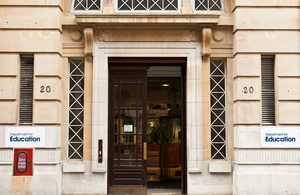 Schools Minister Nick Gibb said:
Despite the welcome fall, absenteeism is still too high. We know that children who are absent for substantial parts of their education fall behind their peers and struggle to catch up.
That is why we have changed the threshold on persistent absence to encourage schools to crackdown on those pupils who are persistently skipping school. Over the coming months we will be giving stronger powers to schools to send a clear message to pupils and parents that persistent absence is unacceptable.
We are also committed to addressing the factors that can lead to children playing truant. Often it can be down to poor literacy skills. That is why we are focusing on improving reading in the early years of primary school with synthetic phonics.
Charlie Taylor, the Government's expert adviser on behaviour in schools, said:
As a teacher, I know how the poor attendance of pupils can disrupt their own learning and that of other pupils. Quickly these children begin to fall behind their friends and often fail to fill in gaps in their skills or knowledge - sometimes in basics like reading or writing.
Over time these pupils can become bored and disillusioned with education. These pupils are lost to the system, and can fall into anti-social behaviour and crime. That is why it is vital schools tackle absenteeism.
Background
On 12 July 2011, Ministers announced changes to the 'persistent absence' threshold. Previously a child was deemed as 'persistent absent' if they missed over six weeks of school a year (32 school days). This has now been changed so that if a child misses just over four weeks of school a year (23 school days) they are deemed as 'persistent absent'. Lowering the threshold will ensure that schools take action sooner to deal with absence.
The Coalition Government has set out a series of reforms on behaviour and discipline.
DfE enquiries
Central newsdesk - for journalists 020 7783 8300
General enquiries - for members of the public 0370 000 2288
Published 24 August 2011