Press release
Lifting of Ethiopia's State of Emergency: statement
Minister of State for Africa Harriett Baldwin welcomes decision of Ethiopian Parliament to lift the State of Emergency early.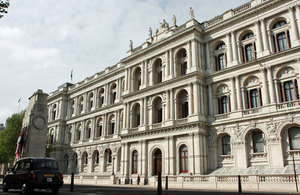 Harriett Baldwin said:
I welcome the decision of the Ethiopian Cabinet and Parliament to lift the country's State of Emergency early. Combined with other steps taken towards reconciliation, including the release from prison of British National Andargachew Tsege, this sends a positive signal about Prime Minister Abiy's intention to broaden political space in Ethiopia. I hope this will be followed by inclusive efforts to reform other legislation that has limited legitimate debate, including the anti-terrorism, mass media and civil society laws.

Ethiopia remains a key partner for the UK and I look forward to continuing our dialogue on such reforms, as well as on crucial matters of economic development, regional and international security.
Further information
Published 5 June 2018