Statement on Iranian nuclear deal
Foreign Office Minister Alistair Burt has responded to reports of a deal to exchange nuclear fuel to power Tehran's medical reactor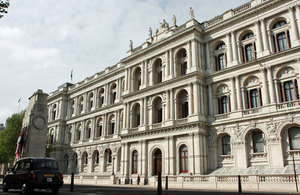 Foreign Office Minister Alistair Burt said:
"Reports suggest Iran is now willing to ship out some amount of Low Enriched Uranium in response to the IAEA's proposal in October 2009 for refuelling the Tehran Research Reactor.? If this is the case Iran should convey this immediately to the IAEA.
"Iran's actions remain a serious cause for concern in particular its refusal to meet for discussions of its nuclear program, or cooperate fully with the IAEA, and its decision to start enriching Low Enriched Uranium to 20%. Foreign Minister Mottaki told UN Security Council Ambassadors last week that this enrichment would continue regardless of any deal to resupply the Tehran Research Reactor. There is no apparent civilian use for this material and it underlines Iran's disregard for efforts to engage it in serious negotiation.
"Iran has an obligation to assure the international community of its peaceful intentions. The IAEA has said it is unable to verify this. That is why we have been working with our P5+1 partners on a sanctions resolution in the Security Council. Until Iran takes concrete actions to meet those obligations, that work must continue.?"
Published 17 May 2010