Statement issued on behalf of the family of Christopher McManus
The family of Christopher McManus gives their statement after hearing confirmation that he was killed in Nigeria on 8 March.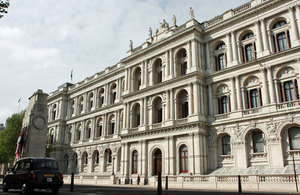 Our son Chris was abducted in northern Nigeria on 12 May last year. As a family, we are of course devastated by the news of Chris' death which we received earlier today. During this ordeal we have relied heavily on the support of our family and friends which has never waned and has enabled us to get through the most difficult of times.
We are also aware of the many people who were working to try and have Chris returned to our family, and his girlfriend. We would like to thank all of them for their efforts.
We knew Chris was in an extremely dangerous situation. However we knew that everything that could be done was being done.
Our thoughts are also of course with the loved ones of Chris' colleague, Franco Lamolinara, who are also coming to terms with this truly sad news.
We now need time to grieve and come to terms with our loss. We would therefore be grateful if you would respect our privacy at this most difficult of times.
Published 8 March 2012