Press release
Statement from Minister of State David Heath following meeting with food industry – Wednesday 13 February
Minister of State David Heath issued the following statement today (Wednesday 13 February 2013): "Today I had a productive meeting with major…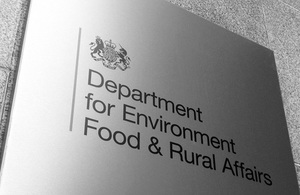 Minister of State David Heath issued the following statement today (Wednesday 13 February 2013):
"Today I had a productive meeting with major retailers, food distributors and devolved administrations on our plan of action to deal with the problem of horsemeat in processed beef products
"I reiterated that the current situation is totally unacceptable and that retailers, caterers and other food business operators need to be completely open with their customers.
"They assured me that they are on track to share meaningful test results by Friday and we discussed practical, pragmatics steps on how to take this forward.
"The Food Standards Agency will be informed immediately of any tests that show a positive contamination.
"All results will be analysed and if there is evidence of fraud then enforcement action will be taken against those responsible."
Published 13 February 2013