Statement by the Foreign Secretary on the Pike River Mine explosion
Foreign Secretary William Hague has expressed his 'immense sadness' at the loss of life at the Pike River Mine in New Zealand.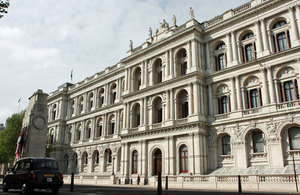 The Foreign Secretary said:
"It is with immense sadness that we have learned of the tragic loss of life at the Pike River Mine in New Zealand. Our thoughts are with the families and friends of the 29 miners and all those whose lives have been marked by this tragedy.
Two of the victims were British citizens: Peter Rodger (40) and Malcolm Campbell (25), who both came from Scotland.
Our High Commission in New Zealand, and our consular team in London, have been in close contact with the families of Mr Rodger and Mr Campbell since Friday afternoon. We are doing all we can to support them at this time of terrible loss.
The Prime Minister and I have been following developments closely, and offered UK technical assistance. I want to thank the New Zealand government and emergency services for the cooperation and help they have provided to the families and our team.
Links between the UK and New Zealand are extremely close. Many British citizens have made their home in New Zealand and the loss of Mr Rodger, Mr Campbell and their colleagues will have touched the hearts of many in the UK."
Published 24 November 2010