Government response
Statement by Northern Ireland Office on Marian McGlinchey
NIO Statement on Marian McGlinchey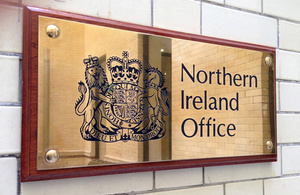 The Northern Ireland Office has confirmed that the independent Parole Commissioners for Northern Ireland have issued their determination in respect of Marian McGlinchey. The Parole Commissioners have decided, given her current circumstances, to release Marian McGlinchey on licence. Such a licence is normally subject to conditions.
Marian McGlinchey's licence was initially revoked in May 2011 by the then Secretary of State for Northern Ireland following a recommendation made by a single independent Parole Commissioner. All such cases are subject to a full review by the Parole Commissioners at which the prisoner has a right to full legal representation. This can include the appointment of a Special Advocate to represent the prisoner's interests in respect of any closed material that may have been presented during the hearings.
The Parole Commissioners' decision reflects the fact that the former Secretary of State's decision to revoke Mrs McGlinchey's life licence was justified in May 2011. This decision was taken after receiving a recommendation from the Parole Commissioners that her licence should be revoked.
Information about the proceedings of the Parole Commissioners are not to be made public and the Northern Ireland Office therefore cannot comment further.
Marian McGlinchey continues to face charges for two separate offences through the Northern Ireland courts.
Published 30 May 2013
Last updated 31 May 2013
+ show all updates
Updated line to reflect a past decision by a previous SofSNI
First published.