Press release
Statement by Hugo Swire MP to a Press Conference in Kathmandu
I leave Nepal confident that our relationship remains as strong as ever.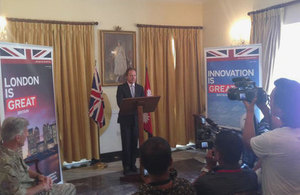 "I have just spent a fascinating, if all too brief, time in Nepal. I came here hoping to inject some energy and vision into the UK-Nepal relationship in anticipation of the bicentenary of our bilateral relationship which we will begin to mark next year. I hope I have done that. My speech at Tri-Chandra College yesterday set out my hope that the future of our relationship will be built around working together for our mutual security and prosperity. I discussed these agendas with Foreign Minister Pandey yesterday afternoon, and we agreed that while it was important for Nepal's political leaders to find common ground and deliver a new Constitution, that alone would not be enough to guarantee the sustainable and inclusive economic growth that the people of Nepal need and deserve.
From my time as a Foreign Office Minister and my travels to the main emerging markets I know that there is no "one size fits all" solution or easy path to growth. The solutions that work are almost always homegrown. But there are a few ingredients that are common: hard work is rewarded and innovation flourishes when Government creates the right environment. The right environment for Nepal would be a mixture of political stability that incentivises investment in your energy infrastructure, and a smart approach to investment and regulation that would let goods, people and capital flow freely both in and out of the country delivering a boost to competitiveness. With the appropriate policies to ensure the poor and the marginalised are not left behind, a rising economic tide will lift all boats.
I want to underline one message: the UK, in particular through our Department for International Development, will continue to make wealth creation and supporting Nepal's economic take off the core of our bilateral support to Nepal. In that context I welcome the Government of Nepal's aspiration to achieve middle income status by 2022.
Nepal's peace process has come a long way in a short time. I applaud the fact that, despite their differences, the main political parties have come to an agreement to form Commissions on Truth and Reconciliation and on Enforced Disappearances to begin to deal with the legacy issues from the conflict. We know ourselves in the UK, from the Northern Ireland experience, how politically difficult these matters can be.
But I do need to spell one thing out, and I have made this point to the political leaders I have met in the last two days. International laws, endorsed by Nepal, state that certain crimes cannot be amnestied. Nepal's reputation will be safeguarded, indeed enhanced, by choosing independent and competent Commissioners who will be ready to recommend amnesty only where consistent with those laws.
I leave Nepal confident that our relationship remains as strong as ever, and hopeful that after years of instability Nepal will soon get the political settlement it needs to realise its potential."
Published 4 June 2014