World news story
Statement by British High Commissioner to Kenya on incident at Manchester Arena
British High Commissioner to Kenya Nic Hailey expressed sympathy for all those caught up in the attack in Manchester and thanked Kenya for support.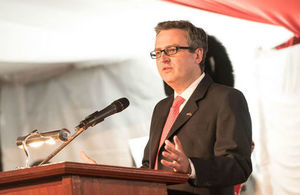 British High Commissioner to Kenya, Nic Hailey said:
My thoughts and prayers are with all those caught up in the terrible incident last night in Manchester. The full details of what has happened are still emerging, but the incident is being treated by the Greater Manchester Police as a terrorist attack.

Manchester is a place which many Kenyans know well – a city which stands, among many other things, for the deep connections between our two countries. I am deeply grateful for the public messages of support from President Kenyatta and others, and for the determination of Kenya and Kenyans to stand with the United Kingdom to ensure all our people can live their lives free of fear.
Published 23 May 2017