State Visit of The Emir of Qatar
The Queen welcomed The Emir of Qatar and his family as her guests at Windsor Castle today.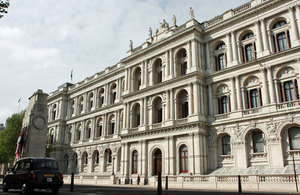 His Highness Sheikh Hamad bin Khalifa Al-Thani and his consort Her Highness Sheikha Mozah bint Nasser Al-Missned are visiting the United Kingdom on a State Visit from Tuesday 26 October to Thursday 28 October.
The visit comes in the context of the increasing global political and economic significance of Qatar and of Qatar's relations with the UK. Over the past 5 years, bilateral trade with Qatar has more than doubled to £2.2 billion and Qatar has invested some £10 billion in the UK in the last few years including the Shard of Glass property project in the City and their shareholdings in Barclays, Sainsbury's and the London School of Economics. Shell's investments in Qatar are their largest anywhere in the world and Vodafone has recently won Qatar's second licence to provide a mobile telephone service.
Qatar is also a major supplier of energy to the UK and supplied fuel last year in what was the UK's coldest winter in 30 years. In 2009 Her Majesty the Queen and His Highness The Emir jointly opened the South Hook Liquefied Natural Gas terminal in Wales in which Qatar is a major investor.
The UK has also welcomed Qatar's recent proactive political engagement in the Middle East, in particular Qatar's work to broker deals in Lebanon, Darfur, Yemen and Eritrea/Djibouti.
As well as spending time with the Queen and the Duke of Edinburgh, their Highnesses will meet other members of the British Royal Family, including the Prince of his Wales and his wife the Duchess of Cornwall. Later, they will meet the Prime Minister David Cameron and Deputy Prime Minister Nick Clegg. The Duke of York will host a meeting for the royal visitors with leaders of British industry to discuss further trade and investment opportunities. A highlight of the visit will be a trip to the Olympic Park in Stratford where the royals will see the very best of modern British construction engineering.
Published 26 October 2010