News story
State-of-the-art newborn and infant physical exam e-learning module receives RCGP accreditation
This online resource will improve the consistency of training for clinicians while illustrating best practice.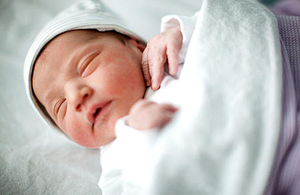 A new education resource for clinicians who undertake the newborn and infant physical examination has received accreditation from the Royal College of General Practitioners (RCGP).
The e-learning module, launched by the NHS Newborn and Infant Physical Examination Programme (NIPE) part of Public Health England, uses film clips and animations to illustrate best practice and covers the 4 screening aspects of the examination: the eyes, heart, hips and testes.
Dr Anne Mackie, Director of Programmes for the UK National Screening Committee said:
The learning resource has been developed to support clinicians carry out this important newborn and infant examination. In the past training has varied in quality and this is a vital tool in improving the consistency of training and therefore the quality of examinations to ensure they are carried according to best practice.
Through the NIPE programme, parents of newborn babies in England are offered the opportunity to have a head-to-toe examination of their baby to check for abnormalities. The first examination is carried out within 72 hours of birth and a subsequent repeat examination is carried out at 6 to 8 weeks of age. The second examination is necessary as some conditions can develop or become apparent later.
As well as an all over physical check, the clinician completes a specific screening examination of the baby's eyes, heart, hips and testes. With about 1 in 200 babies having a heart problem and 1 or 2 in 1,000 having a hip problem, this screening allows for early identification of conditions that may require treatment.
It is recommended that all clinicians who undertake the NIPE examination use the e-learning resource to update their knowledge and skills. In particular, GPs may appreciate the detailed animation of the Ortolani and Barlow manoeuvres to examine infant hips.
View the e-learning module which is available to those who work in a clinical role in the NHS.
Published 7 February 2014