News story
Start4Life partners Hollywood film to support healthier pregnancies
The latest phase of the Start4Life campaign is launched today with cinema advertising and a partnership with the Hollywood film 'What to expect…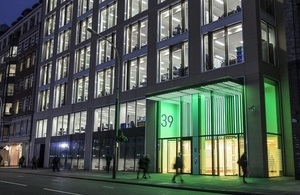 The latest phase of the Start4Life campaign is launched today with cinema advertising and a partnership with the Hollywood film 'What to expect when you're expecting', to help** **mothers-to-be have healthier pregnancies.
The film partnership with Start4Life explores many of the issues parents-to-be experience and encourages them to protect the health of their baby during pregnancy by maintaining a healthy lifestyle. Start4Life adverts are running in all cinemas where the film is being shown.
Watch the ad:
The Start4Life website has been revamped to provide advice and top tips for a healthy pregnancy as well as advice for dads, family and friends, plus advice for the health professionals who support pregnant women.
The campaign focuses on mothers cutting out risky health behaviours such as smoking and drinking too much during pregnancy. In some areas of the country, more than 30% of women continue to smoke when they are pregnant and, across the country:
1 in 10 continue to smoke throughout pregnancy - despite the significant increase to the risk of stillbirth, cot death or lung problems
almost 1 in 10 drink more than the recommended lower-risk pregnancy guidelines - increasing the risk of miscarriage or still birth and stunting growth
1 in 6 are obese - despite the potential for a more difficult pregnancy, riskier birth and a less healthy baby
Public Health Minister Anne Milton said:
"There is a large amount of information and advice around and it can be difficult for parents to know what to do for the best. That's why we're re-launching Start4Life, to give useful and simple tips to help all new parents to give their babies the best possible start.

"With the focus on different experiences during pregnancy in 'What to expect when you're expecting', we've got a great opportunity to talk to parents about how to adopt a healthy lifestyle that will stay with you and your child for life."
Start4Life, DH's social marketing initiative, which previously focused on supporting healthy behaviours from birth up to the age of 2, now covers health during pregnancy and will have advice for children up to the age of 5.
A Start4Life branded toolkit for health professionals will be available next month and a second phase of the campaign, launching in the autumn, will provide new tools and materials for health professionals to support their work with pregnant women and their partners.
Digital information service for parents
Start4Life will work together with the NHS Information Service for Parents, launched last week, that gives parents timely advice they can trust, via e-mail and SMS, on a wide range of issues related to staying healthy in pregnancy, preparing for birth and looking after their baby.
Those signing up to the service will have relevant, timely NHS approved advice sent directly to their phones and inboxes. This includes links to specially commissioned videos showing midwives demonstrating practical advice such as bathing your baby and parents discussing issues that affected them and how they supported each other.
Published 23 May 2012