Start of A Year of Service celebrating faith-inspired local volunteering
Communities Secretary Eric Pickles today announced that throughout 2012, faith communities will lead a series of volunteering days encouraging…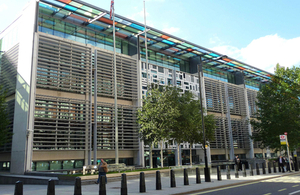 Communities Secretary Eric Pickles today announced that throughout 2012, faith communities will lead a series of volunteering days encouraging communities to come together to help improve their local neighbourhoods.
Recognising the role of faith in inspiring charitable work, the Department for Communities and Local Government is supporting a Year of Service. During the course of 2012, nine faith communities will in turn hold volunteering days, inviting people of other faiths and people of non-religious beliefs to join in. Each of the days will focus on a different social action theme, such as 'community clean ups', planting trees in a local park, or cooking lunches and could be based around an existing religious festival like Lent or the Sikh festival commemorating the Martyrdom of Guru Arjan Dev, or an existing volunteering day such as the Jewish-led Mitzvah Day or the Hindu-led National Sewa Day. 
A Year of Service will also be an opportunity for faith communities to mark the Queen's Diamond Jubilee in a practical way - service being an important theme of Her Majesty's long reign.
Communities Secretary Eric Pickles said:
Faith is a great motivator, and throughout the year people from different faiths regularly give something back, volunteering for projects that benefit individuals in need or their local neighbourhood. From donating food at the Christian Harvest festival, cleaning up a local park for Mitzvah Day or fund raising during Ramadan.

We want to help them do what they do best, recognising that just a little support can make a big difference. The Year of Service is a chance to link these great efforts together throughout the year, strengthen the existing work carried out by faith groups and encourage greater levels of volunteering in neighbourhoods and among businesses, led by individual faith communities but involving people of all faiths and none.
The private sector is also being encouraged to get involved and business-led charity Business in the Community is encouraging businesses across the country to back the Year of Service.
A new website, run for A Year of Service by Mitzvah Day, will provide details of each volunteering day, ideas for activities, background on why volunteering is important to each faith and suggestions as to where people can get involved and go for advice.
Notes to editors
1. Further details on a Year of Service can be found at: http://ayearofservice.org.uk/
2. The project reflects and involves through a Reference Group the major faith communities: Baha'i, Buddhist, Christian, Jain, Jewish, Hindu, Muslim, Sikh and Zoroastrian faiths. Business in the Community, the Church of England, the Coexist Foundation, the Inter Faith Network for the UK, the Faith based Regeneration Network, and Mitzvah Day are offering advice through a steering group supported by the Government.
3. A 'Year of Service' will consist of 12 special days throughout 2012 - coinciding with a religious festival of a different faith, plus one national celebratory event. Each special day will focus on a particular theme and each faith in turn will encourage volunteering activities involving everyone in their community. A 'Year of Service' project might be a church that not only encourages its own congregation to contribute food during Harvest Festival, but also invites the local mosque and a Sikh Gurdwara to join in. In a business, a staff Buddhist network could lead employees in projects to improve their local environment.
Twitter
Keep up to date with the Department by following us on Twitter (external link).
Media enquiries
Visit our newsroom contacts page for media enquiry contact details.
Published 13 January 2012