Staff survey shows civil service engagement scores are holding up
89% of civil servants say they are interested in the work they do, according to the annual civil service People Survey, published today.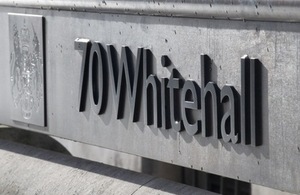 89% of civil servants say they are interested in the work they do, according to the annual civil service People Survey, published today.
The survey, the largest of its kind in the UK, questions civil servants on a whole range of issues relating to their job: from leadership and management to training and development to pay and benefits. It provides the most comprehensive view of the state of the organisation with almost 300,000 civil servants participating.
The latest survey reveals that despite staff reductions of almost 15% since 2010, a pay freeze and increased pension contributions the overall engagement score is up 2 percentage points from last year and is now the same as it was in 2009.
The Civil Service Reform Plan was built on input from staff, and the challenges highlighted in the survey are all key strands of the plan: leadership, managing change and poor performance.
Minister for the Cabinet Office Francis Maude said:
These figures show that morale is holding up well in the civil service, with the vast majority interested in the work that they do and feeling valued as a member of their team. The civil service engagement scores are unchanged from 2009, despite the challenging economic circumstances.

My experience is that civil servants enjoy being asked to do difficult, demanding work, and that is just what they are doing now - delivering this government's radical agenda, including to reform welfare and education. Civil servants in my department have helped drive savings for the taxpayer across Whitehall of over £12 billion since May 2010.

The figures also show that the areas where civil servants want to see improvement are those long standing weaknesses which we are tackling with our reform programme. This includes better recognition for those who do well, improved handling of those who are under-performing, and better leadership and management of change.
Head of the civil service Sir Bob Kerslake said:
The survey shows that civil servants are up for dealing with the challenges and are keen to play a part in delivering the government's reforms. I'm pleased to see the overall engagement score back up to where it was in 2009. I'm also pleased that they recognise where we need to improve - for example better leadership in particular around managing change - and back the reform plan to make those improvements happen.
Some of the highlights of the survey are:
89% of civil servants are interested in their work
84% say they are clear what is expected of them
79% have a manager that is open to their ideas
79% say their team work together to find ways to improve the service they provide
Notes to editors
Read the complete civil service People Survey.
Each department publishes a report for its own civil servants and these are available on their own websites. Read the Cabinet Office results.
Published 1 February 2013