Stability and prosperity in the Western Balkans matters to the UK
Following his visit to the Western Balkans the Foreign Secretary William Hague has commented on the UK's continued commitment to EU enlargement to all countries of the Western Balkans.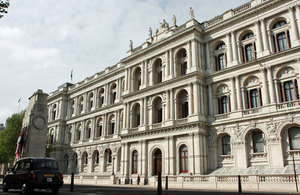 The Foreign Secretary, William Hague, has visited Bosnia and Herzegovina, Kosovo and Serbia. He met government and opposition figures from across the region, including the leaders of all three countries.
Following his visit the Foreign Secretary said:
"The stability and prosperity of the Western Balkans matters to the United Kingdom and is crucial to the peaceful and secure future of Europe. My visit, shortly after the European Union has issued its annual reports on the progress of the region towards EU membership, allowed me to renew the UK's continued commitment to EU enlargement to all the countries of the Western Balkans. I firmly believe that EU and NATO membership will help bring about a more secure and prosperous future for citizens throughout the region, and the UK will remain one of the very strongest advocates of enlargement.
"It is important that conditions for membership are met. So I welcomed the opportunity to talk to political leaders about the importance of domestic reform and progress on cooperation within the region, and to discuss with citizens in all three countries what more Britain can do to help."
The Foreign Secretary also met organisations who support victims of sexual violence in Bosnia and Herzegovina and heard from several victims about their horrific experiences. His recent initiative on Preventing Sexual Violence in Conflict was launched in London on 29 May with a special screening of the film 'In the Land of Blood and Honey', in presence of Angelina Jolie and Bosnian film stars Zana Marjanovic, Vanesa Glodjo and Goran Kostic.
This initiative has seen the creation of a new specialist team of experts in the British Foreign Office that will be deployed to conflict areas to help investigate sexual violence in conflict; £1 million in new funding to support the UN Secretary General's Special Representative on Sexual Violence; and a major campaign to secure new commitments from some of the world's most powerful nations.
Published 25 October 2012