Stabilisation planning for Operation MOSHTARAK
Johann Jones, an American Stabilisation Advisor currently deployed in the Marjah district of Helmand, returned to 1 Palace Street on 16 June to give a seminar on "Stabilisation Planning for Operation MOSHTARAK".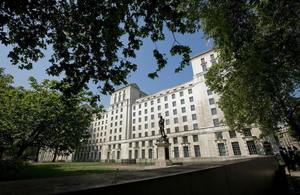 Mr Jones, who is a member of the Civilian Stabilisation Group's 1,000-strong database of Deployable Civilian Experts, was deployed to Afghanistan by the Stabilisation Unit last September. He played a key role in planning for NATO's highest profile operation, launched in February this year.
The inclusion of civilian stabilisation advice helped ensure that military elimination of insurgent safe havens was complemented by activities designed to increase popular confidence in the government of Afghanistan. This decreases the risk that areas cleared of insurgents will relapse under insurgent return.
Quoting Albert Einstein's maxim that "Everything should be made as simple as possible, but not simpler," Mr Jones described the detailed planning process for the operation, that began in September. Marjah planning meetings were held weekly between October and January, with daily synchronisation meetings from D-10 days to D+60 days.
The challenges were numerous. Among the toughest was the number of incompatible communications systems, which initially made planning with secure systems "borderline impossible". Operation MOSHTARAK brought together the UK's Task Force Helmand and Provincial Reconstruction Team in Lashkar Gah, the US Marines Task Force Leatherneck in Bastion and the Afghan government, with additional US input from Kandahar.
One of the many positive consequences of MOSHTARAK was resolving such difficulties facing a multinational, interagency operation. From later this summer, everyone in the UK and US missions will communicate with either the British or American secure system.
Further complications emerged with President Karzai's redesignation of Marjah as an interim district in its own right for three years. Prior to this it had been a sub-district of Nad 'Ali:
We had to continually re-image our plan, taking into account this important change. And the Afghan government suddenly had to find funding for the new district.
Another difficulty was not the absence of effective funding, which was available from the start, but the proliferation of different budgets, which "played havoc with coordination". Mr Jones argued for a more unified funding stream in future operations.
After "D-Day" was pushed back several times, the operation was ready to launch in February. Mr Jones discussed the US Marines' Task Force Big Duke, named by a senior American officer in honour of John Wayne, and the plans prioritised by its Civil Affairs Group. The Coalition's "first ten plays" included the cleaning up and reopening of the bazaar, cleaning roads and canals, carrying out operational checks and maintenance on community wells, assessment of school facilities, renovating mosques and rolling out a number of small grants to construction and materials contractors.
The pace was frenetic. Mr Jones highlighted a diary in February and March that was crammed with high-profile events, repeated visits from President Karzai, Provincial Governor Mangal, American Ambassador Eikenberry and other senior officials, a series of outreach shuras led by the District Governor, registration of contractors to get reconstruction going in earnest:
We were doing something significant every day. There wasn't a down day for something like seven weeks. And in the midst of all this, while this was getting national and international profile, we still had to do our regular stabilisation work.
Planners had worked to agreed end-states. These included a secure district under full Afghan government control; freedom of movement for the local community and Afghan government officials through Nad Ali, between Nad 'Ali and Lashkar Gah and between Nad 'Ali and Gereshk; the end to the use of outlying areas as staging areas for insurgents; steadily improving economic conditions and opportunities for the local community; the delivery of appropriate public services by the provincial government; improved local leadership of the counter-narcotics effort.
Huge lessons were learned during Operation MOSHTARAK, Mr Jones argued, highlighting the challenge of coordination among different parties which the successful prosecution of the operation helped engender. Planning for all eventualities was a necessity.
The sooner the better. If you have more time, take it and be grateful for it.
Prior to his work for the Stabilisation Unit, Johann Jones spent nearly five years in Iraq, initially as the Director of Finance and contracting and senior liaison to the Iraqi Ministry of Interior, later as the head of the Private Security Company Association of Iraq and finally working for the British-run Basra Provincial Reconstruction Team on governance and the rule of law.
Published 23 June 2010