St Helena: Mitchell meets Swindon 'Saints'
International Development Secretary Andrew Mitchell today met diaspora 'Saints' – people from St Helena who are currently living in the UK - in Swindon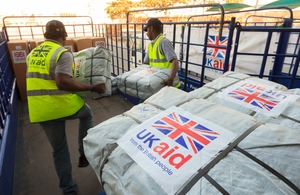 Development Secretary Andrew Mitchell today met diaspora 'Saints' - people from St Helena who are currently living in the UK - in Swindon to update them on progress on the St Helena Airport project and talk about HM Government policy towards the Overseas Territories.
The International Development Secretary met Swindon-based diaspora Saints to set out progress on the airport following the signing of the contract in November last year. The British Overseas Territory of St Helena is one of the remotest islands in the world. The new airport will mean that diaspora Saints will be able to reach the island in a matter of hours in order to visit family or take up jobs, rather than the weeks that the trip currently takes from the UK.
At the meeting, which took place two days ahead of St Helena Day on Monday, he also emphasised the one-off opportunity to develop a thriving economy that the airport provides to St Helena and the important role that all Saints have to play.
International Development Secretary Andrew Mitchell said:
"Work on the airport continues apace, and after years of uncertainty for Saints the four years until the commencement of commercial flights will pass very quickly. Taken alongside the major reforms the St Helena Government has implemented to attract investment and encourage economic development, this is the best opportunity in generations for the island to develop a thriving economy, reduce dependency on aid and deliver a better future for its people.
"The UK government has made clear it will play its part and our continuing aid to St Helena is helping to drive economic development and increased self-sufficiency. But Saints - whether on the island or living overseas - also have an important role to play. That might be as part of the airport project, in the tourism industry, or elsewhere, but unless Saints step up now there is a real risk that those opportunities will be taken by others."
Published 19 May 2012