Press release
St David's Day message from the Secretary of State for Wales
Stephen Crabb: 2016 is already proving to be another busy and exciting year with many opportunities to celebrate our rich heritage.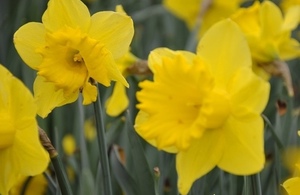 St David's Day marks a time of colourful celebration across Wales. It is a day where children dress in national costume; people take to the stages of Eisteddfods and take part in parades up and down the country.
Today, I look forward to joining the Prime Minister in welcoming people from every branch of Welsh life to N10 Downing Street in celebration of our national day and the year ahead for Wales.
2016 promises to be another busy and exciting year when the people of Wales can celebrate our rich heritage.
Every one of us who lives in Wales has good reason to feel proud of our uniquely beautiful homeland. Indeed, we are winning accolades on a global scale. Our soaring mountain ranges, sprawling coastlines and rugged castles have captured the imaginations of the travel experts at Rough Guides, who this year gave Wales its status as one of the top ten countries to visit on the planet.
The achievements of sport in Wales are also something that our nation holds with great pride. This year, our sportsmen and women will have yet more opportunities to shine on a global stage. From the Six Nations, the Rio 2016 Olympic and Paralympic Games and the UEFA Euro 2016 Championships in France, the Welsh flag will be proudly waved on the terraces of stadia all over the world.
Culturally, this is also a special year for Wales. Events like the Llangollen International Eisteddfod, now in its 70th year, and the many celebrations planned to mark the centenary of the birth of Cardiff born children's author, Roald Dahl, will continue to draw the crowds from far and wide to our shores.
The UK Government has Welsh interests very much at its heart. I am proud to represent those interests at the Cabinet table, across the UK and internationally.
Over the last year, we have seen more businesses succeeding and thriving here in Wales - creating employment opportunities and contributing towards greater economic growth.
Cardiff is Europe's youngest capital city, a vibrant place which is now creating an exciting future as a place to invest.
It has already benefitted from 21st century digital infrastructure like the Cardiff Internet Exchange - a great example of Government, business and local partners working together.
It is my hope that we can take forward the Cardiff City Deal in the same vein, and on a scale that will benefit not only people in Cardiff, but the whole capital region.
Our collective task is to give Wales a future as glorious as its rich and illustrious history.
I send my warmest wishes to everyone celebrating St David's Day at home and around the world.
Dymuniadau gorau o Gymru i'n ffrindiau ar draws y byd ar Ddydd Gwyl Dewi.
Rt Hon. Stephen Crabb MP
Secretary of State for Wales.
Image provided courtesy of JenniKate Wallace on Flickr (Creative Commons)
Published 1 March 2016