SSVC Forces Cinemas go digital at Culdrose
Thanks to a £92,000 project, the Services Sound and Vision Corporation's (SSVC's) Seahawk Cinema at RNAS Culdrose has joined the digital revolution…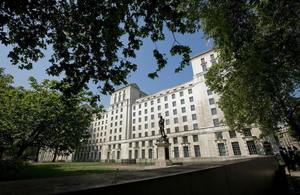 Thanks to a £92,000 project, the Services Sound and Vision Corporation's (SSVC's) Seahawk Cinema at RNAS Culdrose has joined the digital revolution - undergoing a revamp with the latest digital technology to provide audiences with superior 2D picture quality and a truly immersive 3D experience.
The upgraded cinema showcased its new 3D capability by providing a free screening of the sci-fi thriller 'The Darkest Hour', courtesy of Twentieth Century Fox, one day before its UK release.
Janice Lorimer, Head of SSVC Forces Cinemas, was on hand to give out the special 3D glasses so the guests could take in the stunning images, which appeared real enough to touch.
Janice said:
It's going to be an amazing community facility for Culdrose and it's great that SSVC could help support this project.
Glyn Timmins is the Financial Controller of the Seahawk Cinema and has been overseeing the project. He said:
The new digitised facilities are great. We're hoping the 3D system will be a good draw for people to entice them out of their cabins so they can enjoy the 3D cinema experience.
The cinema dates back to the 1970s, and has undergone a number of upgrades over the years as technology has moved forward. This most recent advance took 11 months to complete and was jointly funded by SSVC, the RNAS Culdrose Welfare Fund, and the Royal Navy and Royal Marines Charity.
The 192-seater cinema shows films three nights a week - Tuesdays, Wednesdays and Thursdays, and is also used as a briefing facility by personnel based at RNAS Culdrose.
Warrant Officer Class 1 Steve Cass, the Base Warrant Officer at RNAS Culdrose, said:
The cinema is a cracking facility, and the new 3D technology has dramatically enhanced it.
The digitisation of these cinemas is largely down to Hollywood saying goodbye to celluloid film, which has been used for 120 years in cinemas around the world.
SSVC has funded one-third of the cost to upgrade Forces Cinemas in the Falkland Islands, British Forces Germany (BFG) and Cyprus. The Wessex Theatre in Northern Ireland will be the next to be converted, along with four further cinemas in BFG.
Published 23 January 2012