Squadron's longest serving member slides into retirement
Burmese Python, Squadron Leader Eric Aldrovandi, 14 Squadron's mascot, slid into retirement yesterday after a 25-year career with the Royal Air Force.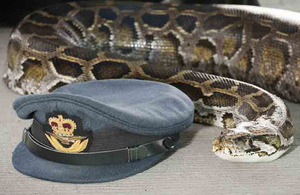 Sqn Ldr Aldrovandi has kept a watchful eye over the comings and goings of the recently disbanded 14 Squadron, first at RAF Brüggen in Germany and, since 2002, at RAF Lossiemouth.
Some 15 feet (4.5m) in length and 8 inches (203mm) in girth Sqn Ldr Aldrovandi, for the past 25 years has kept the junior aircrew of 14 Squadron in check with his imposing poise and forked tongue.
The affection that 14 Squadron had for its mascot was shown by the effort that was put into writing his annual report.
He was described as 'a slippery customer who when performing aerobatics, frequently tied himself in knots', but he was a determined individual, with one reporting officer stating 'when he gets a grip of something, he won't let go until he has squeezed the last drop out of it.'
His potential to become a senior officer was clear, with the Station Commander commenting:
I have noted some admirable qualities that will stand him in good stead as a senior officer. He lies around doing nothing, whilst other rush in all directions; he never opens his mouth except to eat; he never commits himself to paper in case its wrong and he eats hamsters on social occasions.
These qualities served him well and in 1992 he was promoted to Squadron Leader. Since then his career has slithered along, but his preference for lazing around led to subsequent reports describing him as 'lazy, inactive, indolent, slack, complacent, idle and uninterested.'
Furthermore, his inability to stand up straight led some to believe he harboured a drinking problem. For these reasons he was never promoted further.
Sqn Ldr Aldrovandi has retired following 14 Squadron's recent disbandment; with his request being granted by the Station Commander who remarked:
It is with great reluctance, therefore, that I accept your request, safe in the knowledge that you will be well cared for at Amazonia in Glasgow, which given your illustrious career, is the very least that the Royal Air Force can do for someone who has served his country with such distinction.
Sqn Ldr Aldrovandi will move to Amazonia in Glasgow next week, where he will no doubt uphold the highest traditions of 14 Squadron and the Royal Air Force, in which he has so diligently served.
Sqn Ldr Aldrovandi's surname comes from a predecessor on 88 Squadron, who was named Fred and was a Aldrovandi Rock Python. 88 Squadron was renumbered as 14 Squadron in 1963 and shortly after Fred died.
As 88 Squadron had a history of having snakes as a mascot, 14 Squadron personnel decided to continue the tradition and Sqn Ldr Aldrovandi was obtained as the mascot.
Published 17 June 2011