Spreading the word - Radio expansion in Helmand
Provincial Governor of Helmand Gulab Mangal has launched a new Helmand wide AM signal of Radio Television Afghanistan, marking important progress in Afghan radio development.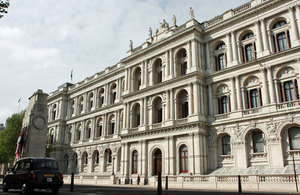 Offering 24 hour programming, the new RTA AM service will provide news, entertainment and programming on the government's efforts in tackling issues such as narcotics and corruption across all of Helmand, reaching into areas of the North and South previously not reached by Afghan radio.
In Helmand, the radio is the number one source of information after word of mouth. It plays a vital role in Afghan life, where an active print and television media is limited. In contrast, local radio has flourished, growing from a solitary station in 2001 to five local stations in operation today. The new AM service forms part of broader Afghan radio development in Helmand. Private stations, such as Radio Sabawoon, are undergoing a similar expansion with FM towers being constructed in Gereskh, Garm-Ser and Musa Qal'ah with international support.
Expanding the reach of radio, to publicise and hold the work of the Afghan government to account, is an important part of the successful development of the province. The UK led Provincial Reconstruction Team (PRT) in Helmand works closely with the burgeoning Helmandi radio industry and the Afghan government to increase the capacity and reach of radio stations in the province. The PRT provides focused support, through mentoring and sustainable infrastructure projects, to ensure that the radio community will be self-sustaining after the drawdown of the ISAF presence in 2014.
Against this background, the Provincial Governor hosted a reception to celebrate the progress of journalism in Helmand. The new Head of Mission at the PRT, Catriona Laing, presented awards to aspiring female journalists and discussed the progress and challenges facing journalists, both male and female, in the Province.
Published 28 March 2012