Spitfire salute for royal couple
If getting a gold-embossed invitation to the royal wedding is like winning Willie Wonka's golden ticket, then Squadron Leader Ian "Smithy" Smith…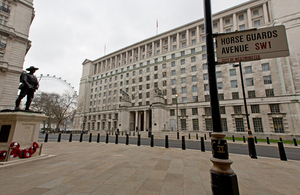 If getting a gold-embossed invitation to the royal wedding is like winning Willie Wonka's golden ticket, then Squadron Leader Ian "Smithy" Smith has the next best thing.
His mission? Sqn Ldr Smith has been chosen to fly a Spitfire in a special salute as William and Kate stand on the palace balcony.
It will be an iconic moment watched by an estimated audience of two billion and "Smithy" couldn't be more chuffed:
As much as I'd love to have been invited to attend the royal wedding on the ground, I'll be able to attend in the air so I'm very proud," he says.
Sqn Ldr Smith has clocked up 6,000 flying hours under his belt, and this is his sixth season flying the iconic Second World War fighters as Commanding Officer of the RAF Battle of Britain Memorial Flight (RAF BBMF).
Ask him to define the Spitfire's unique appeal and Sqn Ldr Smith who grew up hooked on wartime movies and air shows, asks rhetorically:
Well, which schoolboy would never have dreamt of flying a Spitfire?
With its unique design and wartime heritage the aircraft are treasured by millions of aviation fans, and Sqn Ldr Smith unashamedly waxes lyrical:
The beautiful engine noise is distinctive. The Spitfire is the prettier of the two and has captured the nation's imagination but the Hurricane should be recognised for its war fighting in 1940. They are just the most beautiful airplanes and we are the most privileged, lucky people to be able to fly them.
Three Second World War aircraft from the RAF BBMF will be represented on the day. Sqn Ldr Smith believes they are a world away from their modern military equivalents:
Spitfires are priceless, so we have got to choose our pilots carefully, those with mechanical empathy and 'good hands and feet' he says.

They are beautiful but are all very tricky to land. When you get airborne in a Spitfire, you have an angel on one shoulder and a devil on the other. The devil tempts me, 'Sit back and enjoy this,' while the angel reminds me, 'You've got to land it!'.
As for taking centre-stage, Sqn Ldr Smith, who is based at RAF Coningsby, remains cucumber cool:
We are a professional organisation. We have trained, we've achieved and we will be there to the second in exactly the right place.
So much so, that he stresses there is no contingency plan for the flypast to be bought forward or delayed ("The guys have to be ready for us").
So how exciting is the wedding?
Enormously!" smiles Sqn Ldr Smith. "We are delighted to be involved so it's 10 out of 10 for excitement. Let's hope that the English weather doesn't conspire against us but if it's a nice day, we'll be there. Only God can stop us from going.
This article by Lorraine McBride appears in the May 2011 issue of Defence Focus magazine - For everyone in Defence.
Published 26 April 2011