Spirit of the summer realised with relaxation of flag flying rules
Communities Secretary Eric Pickles has today announced a liberalisation to the regime for flying flags, giving a boost to patriotic pride, after…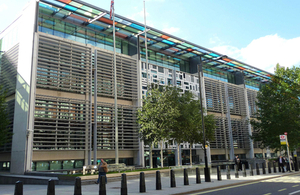 Communities Secretary Eric Pickles has today announced a liberalisation to the regime for flying flags, giving a boost to patriotic pride, after a Summer of success that has seen national and community spirit flying at an all-time high.
The Armed Forces Day flag can now be flown without express consent
A wider range of flags will now be able to be flown without seeking express consent meaning individuals, businesses and community groups will now be able fly their chosen flag with pride without incurring costs of up to £335.
The changes will increase the number of flags that people can fly, promoting integration and community spirit.
Flags that could be displayed without express consent include:
A wider range of national, sub-national, community and international flags
The Armed Forces Day flag and a wider range of military flags
An expanded range of flags that will have deemed consent will also include:
The rainbow 'Pride' flag
Flags of sports clubs
Award scheme flags
There is also to be a relaxation in the number, size and siting of flags in all areas away from sensitive sites such as national parks or areas of outstanding natural beauty. This common sense safeguard is to ensure that controls are maintained where they are needed.
Secretary of State Eric Pickles said:
The widespread flag flying during the Royal Wedding, Diamond Jubilee and Olympics is evidence of a gradual cultural change in Britain. The British people are increasingly proud to fly flags as an expression of their local and national identities. Flags unite communities across colour, creed and class, so I am cutting municipal red tape to make it easier to fly Britain's varied and diverse flags without state interference.

Flags represent our sense of self, of the communities we belong to, our interests and beliefs and our pride in being British. I've been celebrating this sense of patriotic pride by flying a range of flags outside my Department in recent months and look forward to seeing more flying around the country with the relaxation of these rules.
Andrew Rosindell MP Chairman of the All Party Parliamentary Group on Flags said:
For centuries flags have been used to display and promote the identity of nations, communities and organisations. I am delighted that British people will now be encouraged to hoist a banner and continue this tradition without restriction. I commend the Department for Communities and Local Government for taking the lead on this initiative and look forward to seeing a tapestry of flags flying across the nation!
Charles Ashburner, Chief Executive of the Flag Institute said:
Flags are important to all UK societies and social groups. They are emotive symbols of unity, sport, protest, and patriotism. In our super fast world of instant news and ever changing technology flags remain the ultimate symbol of identity. I therefore welcome Mr Pickles' changes as the most significant shake-up of flag regulations in a generation.

We were delighted when Mr Pickles first launched this project in a heartfelt speech at the Flag Institute's 2011 Spring Meeting. Today's launch realises those hopes and takes an important step towards encouraging and protecting the huge variety of different community and individual identities of which British society should be so proud.

The deregulation of flag flying regulations is something which everyone who believes in freedom of expression should support. This really is a new Freedom to Fly Flags.
Notes to editors
For planning purposes, flags are treated as a form of advertising and their display is regulated by the Town and Country Planning (Control of Advertisements) (England) Regulations 2007 ('the Regulations').

A flag for which no planning consent is required can be flown without reference to the local planning authority, subject to a number of conditions and limitations. Flags with deemed consent can also be flown without applying for consent but are subject to specific conditions and limitations, and can be subject to discontinuance action by the local planning authority if their display gives rise to substantial detriment to the amenity of the area.

These measures affect only the planning controls which regulate flag flying. Where relevant, those wishing to fly certain flags would still need the permission of their authorised user prior to their display (eg flags of HM Armed Forces). Obtaining such permission is not a planning matter and therefore cannot be stated within the Regulations.

The relaxation of regulations comes into force on 12 October.
Published 20 September 2012