News story
Spending review plans announced by Chancellor
Over the course of the next four years, the Home Office will reduce its overall spending by 23 per cent.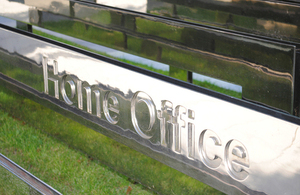 Announcing the Spending Review settlement today, Chancellor George Osborne also confirmed that central government police funding will reduce by 20 per cent by 2014-15.
The budget for the UK Border Agency will be reduced by up to 20 per cent.
Meanwhile, the central administration budget in the Home Office will be cut by 33 per cent. The capital budget - which are long-term assets, such as buildings and IT - will fall by 49 per cent.
All figures are given in 'real terms' which means they have been adjusted for changes in purchasing power over time.
Home Office will play its part
Theresa May, said: 'My absolute priority, as Home Secretary, is to ensure that the UK retains its capabilities to protect the public, secure the border and tackle the terrorist threat. We also have a responsibility to reduce the budget deficit and the Home Office must play its part in this.
'I believe that by improving efficiency, driving out waste, and increasing productivity we can maintain a strong police service, a secure border and effective counter terrorism capabilities whilst delivering significant savings.'
Achieving reductions
Reductions will be managed by:
driving out wasteful spending and increasing efficiency and productivity in the police 'back office'
modernising police pay and conditions, and removing central bureaucracy and targets
ensuring that police resources are properly targeted by introducing directly-elected Police and Crime Commissioners
phasing out the National Policing Improvement Agency, with some of its functions being absorbed into the new National Crime Agency. This will save at least £50m
reducing support costs in the UK Border Agency and improving productivity and value for money from commercial suppliers. The agency will also invest in new technologies to secure the border and control migration at a lower cost. An increasing proportion of the costs of controlling immigration and securing the border will be met by migrants and visitors to the UK. By taking these measures, the agency will save around £500m
Olympic spending
The UK will retain its capabilities to tackle the terrorist threat and there will be sufficient funding to deliver a safe and secure Olympic Games in 2012.
Counter-terrorism-specific policing will be protected will a smaller percentage cut than overall police funding.
Your suggestions
In addition, the department will adopt two ideas suggested by the public through the Spending Challenge process.
Employers will be able to share checks carried out by the Criminal Record Bureau, reducing the need for multiple checks.
Meanwhile, police forces can make procurement savings by acting together when buying goods and services.
What is the Spending Review?
A process led by HM Treasury, the Spending Review sees resources across all government departments being allocated according to government's priorities.
It is then up to departments to decide how best to manage and distribute this spending within their areas of responsibility.
Ahead of today's review, the Home Office conducted an assesment as to the potential impact of Spending Review decisions in compliance with gender, race and disability requirements. Read the Equality Screening report here.
The Chancellor has confirmed that next month each department will set out a business plan to show their priorities.
Published 20 October 2010