Special educational needs trial extended
Information on an extension to trials helping children and young adults with special educational needs.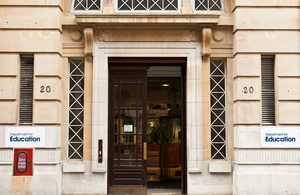 Trials to help children and young adults with special educational needs are being extended by another 18 months.
Edward Timpson, Children and Families Minister, today visited the Bromley and Bexley pathfinder, one of 20 areas where the reforms are being tested before they become law. This area is making good progress in testing the reforms.
Parents of young people aged between 12 months and 24 years in the two boroughs in south-east London have been testing the reforms. Their children have conditions as varied as autism, chronic medical conditions like lung disease and learning disabilities.
The reforms include a single assessment process and an integrated education, health and care plan. This brings together all the support they need in a single place. Parents also have the option of a personal budget, so that they can control their support.
Edward Timpson, Children and Families Minister, said:
We want the best for children and young people who have special educational needs or who are disabled.
The Bromley and Bexley area is a trailblazer for our reforms which will put children and parents at their heart, and will make sure that education, health and social care services work together in their interests.
Our reforms will help children get support swiftly, make progress in school and then go on to live independently later in life.
Mr Timpson met parents, councillors and professionals involved in the Bromley and Bexley trial at the Phoenix Centre, which has a hydro pool, as well as medical rooms and a gym. In providing so many facilities in one location it provides integrated services for parents of children with special educational needs.
DfE enquiries
Central newsdesk - for journalists 020 7783 8300
General enquiries - for members of the public 0370 000 2288
Published 20 November 2012