Speak up, speak out: Holocaust Memorial Day 2012
Communities Secretary Eric Pickles paid tribute to those affected by genocide past and present, at an event to mark Holocaust Memorial Day.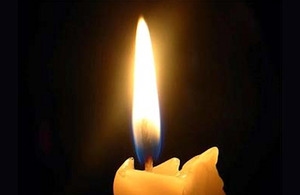 Holocaust Memorial Day is a worldwide event held each year on the 27 January, commemorating all the communities that suffered as a result of the Holocaust and in subsequent genocides in Cambodia, Bosnia, Rwanda and Darfur.
This year's theme 'Speak up, Speak out' focuses on the importance of vigilance against extremism, racism and discrimination in all of its forms and aims to motivate people individually and collectively, to ensure that the horrendous crimes committed during the Holocaust are neither forgotten nor repeated.
Communities Secretary Eric Pickles said:
"It is vital that the lessons from the Holocaust are taught today and to future generations. Holocaust Memorial Day gives us an opportunity to find out more about what happened in Nazi Germany, Bosnia, Cambodia, Rwanda and Darfur. To look at why it happened; and to think about what we all need to do to make sure it never happens again.
"This day is relevant to all of us. We all have an obligation to speak up and speak out against extremism and hate and challenge divisive views and discrimination where we see them."
Organised by the Holocaust Memorial Day Trust, this year's commemorations are being marked with an art exhibition 'Learning Lessons from the Past, To Create a Safer, Better Future', already it has been visited by 200 children. People from across the country are also being encouraged to speak out against discrimination and sign a pledge against the language of hatred.
The government supports the Holocaust Memorial Day Trust to supply resources for teachers and for the organisers of the hundreds of local events that take place in communities. Over the next year the Government is providing £750,000 funding to support local memorial activities.
Published 27 January 2012