SPAG trains for submarine rescue in Gibraltar
Members of the Submarine Parachute Assistance Group (SPAG) from all three Services have been putting their parachuting skills to the test in Gibraltar this week.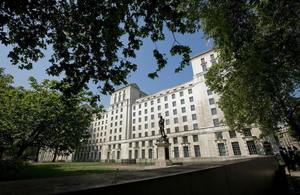 The Group's main task is to deploy a team of people with escape and rescue knowledge to the scene of a submarine in distress - and to do so as quickly as possible.
Back in the UK they are on six hours' notice to take-off, twenty-four-hours-a-day, all-year-round, and, at RAF Brize Norton, there is always a C-130 Hercules aircraft available in the event of a submarine emergency.
The week has been spent purely on parachute training and around 60 individuals have been jumping into the Bay, sometimes as often as three-times-a-day. All the Group members must learn how to jump and they come from a wide variety of backgrounds and trades.
The exercise has seen a tri-Service mix of medics, logistics specialists, radio operators, engineers, divers, and even trainee parachute instructors, taking part. There is an equally wide range of parachute experience, with seven members of the Group having performed only their first-ever jumps this week.
Exercise Gib Splash is also an important training event for the aircrew themselves. They need to learn how to fly as low as 1,000 feet (305m) over a precise target, and with parachutists jumping from the tailgate. And, finally, the exercise allows the boat crews on the water to gain additional water safety qualifications. Lieutenant Jan Ziolo, SPAG's Officer Commanding, said:
Gibraltar is ideal for this kind of training.
We get huge support from Headquarters British Forces, the weather and the sea states are usually good, and, of course, we can achieve a very fast turnaround from the sea back to the airfield. We don't waste any time at all.
Chief Petty Officer Neil Stevenson, the exercise co-ordinator, said:
We plan to come back in July to rehearse the other part of the operation - that of building a floating triage and medical centre.
This is the first time I have ever organised this exercise and I am very happy with the way that it has gone.
Lieutenant Ziolo added:
We are very grateful for all the help that has been given to us. We are very aware that our exercise coincided with Exercise GIBEX, so we are particularly grateful to everyone here.
Published 23 February 2012