Press release
South Wales to be promoted as a financial centre
Economic Secretary to the Treasury, Harriett Baldwin launches the South Wales Financial Centre of Excellence initiative in Cardiff.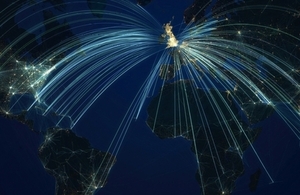 The burgeoning financial services industry in Wales was boosted on Thursday (19 November 2015) last week by the launch of a project to attract more investors to the region.
The South Wales Financial Centre of Excellence initiative was launched by the Economic Secretary to the Treasury, Harriett Baldwin, at the offices of the Admiral Group in Cardiff.
It will see HM Treasury, UK Trade and Investment, the Welsh Government, financial sector trade body TheCityUK, local educational institutions and businesses, work together to promote South Wales to foreign financial services companies. Back and middle office functions that do not need to be in the City of London could also be relocated to the area.
Last year there were 9 financial services inward investment projects in Wales.
Mrs Baldwin said:
A key part of our long term plan is to support a competitive financial services industry, not only in London, but also across the rest of Britain, where around two-thirds of the people employed across the sector work in a variety of roles.

That's why I'm delighted to launch the Financial Centre of Excellence here in Cardiff. With so many reasons to invest, it's not surprising that South Wales is one of the fastest growing locations for financial and professional services in the UK.
Edwina Hart, the Welsh Government's Minister for Economy, Science and Transport, said:
The Centre of Excellence initiative is very welcome and complements existing Welsh Government activities to promote Wales as a great location for international business investment.

Cardiff is not only one of the UK's fastest growing locations for financial and professional services outside of London, but also one of the most competitive locations. Today's launch supports our ambitions to grow the sector and attract new business to the region to join the growing number of national and international companies that already have thriving operations in Wales.
Dr Catherine Raines, Chief Executive of UK Trade and Investment, said:
UK Trade and Investment's international network has a vital role to play, working with partners such as the Welsh Government and industry bodies, in attracting foreign investment from the financial services sector to South Wales. The UK's financial and business services sector is well-known for being world-leading. It's less well known that its reach extends far beyond the City of London to places like Cardiff, where there is a highly-skilled workforce and strong transport links.

Today's event, in partnership with the Welsh Government as well as industry, is an important way of us working together to help promote opportunities and investment in the sector.
Chris Cummings, Chief Executive, TheCityUK, said:
Financial and related professional services are thriving in Wales. The nearly 60,000 people employed across the nation contribute almost £4 billion to the regional economy, with Cardiff accounting for one third of all employment in the industry. Strong hubs like Cardiff help to increase the global appeal of London, broadening the talent pool and offering growth opportunities to firms looking to invest in the UK.
David Stevens, Chief Operating Officer of Admiral Group, said:
Being based in Wales has played a big part in Admiral's success.

The quality and commitment of our 5,000 plus employees in Wales has played a huge part in helping us grow from a start-up to the UK's leading car insurer in just over 2 decades.
Notes to editors:
1.The South Wales Financial Services Centre of Excellence initiative brings together the Welsh Government, UK Trade and Investment, firms and educational institutions to create a task-force that develops action plans for their local 'centre of excellence'.
By using bespoke marketing approaches and working in partnership with devolved assemblies and local partners, UKTI aims to secure foreign direct investment into UK regions and prevent further offshoring of these back and middle office functions.
2.UK Trade and Investment is the government department that helps UK-based companies succeed globally and assists overseas companies to bring investment to the UK. They lead the whole of government effort to help UK firms win business overseas and rebalance the economy towards export-led sustainable economic growth.
Published 23 November 2015