South Sudan: UK aid support for 200,000 people
Andrew Mitchell has today announced further British support for refugees fleeing violence on the Sudanese border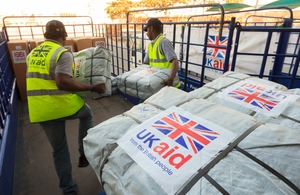 Further British support for refugees fleeing violence on the Sudanese border was announced today by International Development Secretary Andrew Mitchell.
The new support, which comes from the existing aid budget, will help more than 200,000 people in South Sudan with food, urgent healthcare and safe drinking water.
Refugee camps close to the border between Sudan and South Sudan are filling up while aid agencies struggle to cope with the flow of new arrivals and the threat of disease outbreaks.
British support announced today is expected to provide:
Primary health care including vaccinations and emergency treatment for 204,300 people
Urgent food and nutritional supplements for 113,125 malnourished children
Clean, safe drinking water and sanitation for 163,000 people
Emergency shelter and other basic equipment to 56,750 people
Food and agricultural supplies to 134,600 people
Physical rehabilitation support for more than 300 injured survivors of violent assaults with weapons.
Secretary of State for International Development Andrew Mitchell said:
"As the eyes of the world turn to Britain on the eve of the London Olympics, we do not forget some of the world's poorest people in South Sudan.
"Women and children have walked many miles in extremely harsh conditions to reach the safety of refugee camps so they can access basic lifesaving supplies when they get there.
"Britain will not forget the world's poorest people during this time of sporting celebration. This is why, when the Olympics draws to its close, we will host a Global Nutrition Event to help millions of children worldwide to get better nutrition."
The UN estimates that more than 107,000 people have fled to Upper Nile State since fighting broke out in Blue Nile State in September 2011. A further 55,000 refugees are currently in Yida camp in Unity State.
Published 25 July 2012