South Sudan - one year on
On 9 July 2012 the new nation of South Sudan will mark its first anniversary.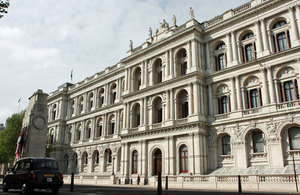 A year ago Foreign Secretary William Hague was among many friends of South Sudan present in Juba to demonstrate British support for the government and people in making a success of their new state. Speaking today he said:
"I congratulate the government and people of South Sudan on the anniversary of the birth of the world's newest nation. One year ago today, I attended Independence Day celebrations in Juba, the capital of South Sudan, and officially opened the UK's Embassy there. I promised the South Sudanese people that the United Kingdom would work with them to build stability and prosperity, based on lasting peace with South Sudan's neighbours, full integration into the region and strong co-operation with the international community.
"The events of the past year have underlined the importance of strong political leadership in achieving peace and building a successful nation which will benefit all the people of South Sudan. I call on the Governments of South Sudan and Sudan to demonstrate that leadership now, by creating a lasting peace with each other which will allow both nations to thrive. The UK will continue to offer its full support to South Sudan as it builds a more secure and prosperous future."
Britain was the first country to accredit an ambassador to the new country, and with its substantial development and humanitarian programme, has led the way in taking forward the commitments made by the international community to address the pressing needs of the South Sudanese people.
Twelve months on, the challenges facing the new country are more evident than ever. South Sudan needs to settle its remaining differences with the Republic of Sudan, so that its people can reap the full benefits from the economic rewards that peace will bring, and focus on building a state that makes the most of the their country's rich agricultural, mineral, and human potential.
Britain continues to actively support mediation between South Sudan and Sudan, and remains committed to improving the lives and opportunities of the citizens of both countries.
Published 9 July 2012