News story
South Sudan: British minister arrives to discuss humanitarian aid
UK highlights risk of famine in world's youngest country.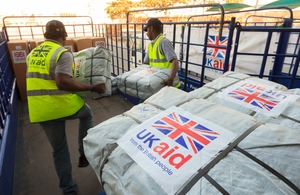 The UK's International Development Minister Grant Shapps has arrived in South Sudan to discuss the country's worsening humanitarian situation, food shortages and the implementation of the Peace Agreement to end prolonged fighting.
During his three day visit, he will meet recipients of UK aid across the country and call on senior leaders to discuss progress.
Arriving in Juba, Grant Shapps said:
Britain is a close friend to the people of South Sudan and I am committed to building a safer, more peaceful and inclusive nation.

Aid from Britain is already helping millions of people in South Sudan cope with the devastation of ongoing fighting, displacement and droughts.

The world's newest country faces many challenges as it maps out its future. I am here to look at how the UK can continue to support their progress. It is vital that South Sudan's leaders end the fighting and that the Peace Agreement is implemented swiftly and in full.
Over 2.3 million people have fled their homes, including more than 1.6 million displaced people inside South Sudan and more than 640,000 seeking refuge in neighbouring countries. Humanitarian access remains heavily restricted.
There is a real risk of famine. Almost 4 million people are facing severe food shortages - an 80 per cent increase on this time last year. 30,000 people are already believed to be experiencing starvation in Unity State.
The UK is the second largest bilateral humanitarian donor to South Sudan. We have contributed £242 million to the humanitarian response and a further £89 million to South Sudanese refugees in the region since December 2013.
Published 18 November 2015