News story
Somalia Conference: what next
How the international community can continue to support Somalia following the conference on 7 May.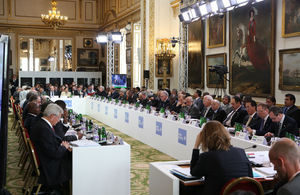 The Somalia Conference in London on 7 May is not just about what happened on the day, but about how the international community can continue to support Somalia as the Government takes forward its efforts to rebuild the country.
The Conference agreed that partnership between Somalia and the international community would form the basis of future cooperation: the international community is committed to provide coordinated and sustained support for implementation of the Federal Government's plans.
The Conference conclusions congratulated all who had made progress possible in Somalia, notably the people of Somalia, Federal Government, Members of Parliament, civil society and diaspora, and commended the sustained commitment of Somalia's international partners, and particularly of their regional neighbours. The Conference also recognised the need to consolidate progress quickly and Somalia's international partners reiterated their determination to support Somalia over the long-term.
For the UK Government, the funding and support announced at the Somalia Conference is a clear demonstration of our commitment to Somalia and our determination to support the federal government and the people of Somalia in the years ahead. This is also evident by our inclusion of Somalia as an issue for the UK's Presidency of the G8. We intend to use the Leaders' Summit in June to make further progress on the commitments made at the Conference on security and public financial management; and on how the International Financial Institutions, such as the World Bank and IMF, can re-engage with Somalia to support the country's long-term stability and growth
The Somalia Conference is one of a series of events in 2013 aimed at providing international support to Somalia. Other events planned include a Special Conference on Somalia on the socio-economic development agenda in the margins of the fifth Tokyo International Conference on African Development (TICAD V) in late May. An EU/Somalia Conference is also due to be held in Brussels in September which will take forward progress on a New Deal Compact in line with the agreement signed in Busan about working in partnership to support fragile states.
Further information
Published 13 May 2013