Soldiers talk of life on Helmand's front line
Three soldiers, Guardsman Terry Brazier, Private Dan Faulkner and Private Luke Whylie, describe the challenges of fighting in Helmand's battlefields.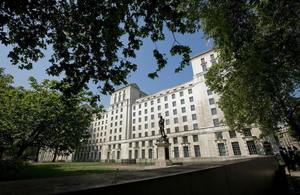 There is no doubt that life on the front line can be stressful, lonely and challenging as British forces go about their mission to ensure that Afghanistan can never again become a safe haven for international terrorists.
Colchester-based 3rd Battalion The Parachute Regiment (3 PARA) are currently serving in Helmand province where they are working alongside Afghanistan's own security forces. 3 PARA troops are responsible for driving out the insurgency and improving security in Nad 'Ali, while at the same time training up their Afghan colleagues who are increasingly taking over responsibility for maintaining security in their own country. But it is far from easy.
One young soldier rising to the challenge is Guardsman Terry Brazier, who swapped life as a stonemason in a radical career change and is currently on his first tour of Afghanistan. Guardsman Brazier is a member of the Irish Guards who is on attachment to 3 PARA.
As a Gunner, Guardsman Brazier operates the general purpose machine gun that provides much of his section's firepower. In his role he regularly goes out on foot patrols, as well as forming part of the crew of a Jackal vehicle, but he knows the value of winning the hearts and minds of the local population and cautiously thinks that the philosophy may be working. He said:
The locals really do like us being here - they tell us that because the insurgents are running scared from us and the Afghan forces in their area, they can now go about their daily lives without being threatened or beaten up.
Guardsman Brazier has often found himself in dangerous situations and relates how when patrolling a compound that was a known insurgent hangout he came under direct insurgent fire:
Having located their firing positions, we suppressed the insurgents and won the fight through our heavier and more accurate fighting," he said. "We also called in a mortar strike to destroy their firing positions.

Once we had won the fight we continued on our patrol and moved back to our checkpoint. I tried to have a drink from my CamelBak - a water vessel that you carry inside your rucksack and drink through a tube - but there was no water left in it. It was only when I took it off and looked at it, I realised it had three bullet holes through it - I felt so lucky!
Like Guardsman Brazier, fellow comrade (and Gunner) Private Dan Faulkner is also serving in Helmand province, and is all too aware of the dangers of serving on the front line.
Private Faulkner's specific role is as a Gunner operating a variety of weaponry, including the general purpose machine gun, heavy machine gun, grenade machine gun and the SA80 underslung grenade launcher. In this role the 20-year-old regularly goes out on foot and vehicle patrols and is also part of his unit's 'Quick Reaction Force', providing an urgent response to incidents when required. It is a vital role from which he draws the satisfaction of a job well done.
Private Faulkner said:
The biggest event I have experienced out here was a battle near a place called Washiran. We were fighting the insurgents all day and into the night but it ended in victory, we cleared them out of the area, and the locals were much happier afterwards. It helped the place to move on.
He added:
I am enjoying the tour but I miss all my family and friends back home and am looking forward to seeing them again soon.
Also serving in Helmand province alongside Guardsman Brazier and Private Faulkner is Gunner Private Luke Whylie.
Private Whylie regularly goes out on foot patrols, as well as forming part of the crew of a Jackal vehicle. He is also part of his unit's Quick Reaction Force.
Having joined the Army four years ago, Private Whylie is currently serving on his second tour of Afghanistan, his first was in 2008, and he has noticed some changes since then even down to the way that the enemy fight:
It feels a lot different to before. The way the Taliban fight is different, although that could be because we are operating in a different area. The locals are definitely more friendly and on-side than before - I think they understand better what we are here to do. It really feels like we're making progress.
What has not changed, however, is the need to display selfless guts, bravery and determination, all qualities which Guardsman Brazier, Private Faulkner and Private Whylie display in abundance.
Published 1 February 2011