Soldiers take part in annual skiing competition in the French Alps
The top honours at the 1 (UK) Armoured Division's annual military skiing contest, Exercise Pipedown, have once again gone to 1 Logistic Support Regiment (1 LSR), who have dominated the competition over previous years.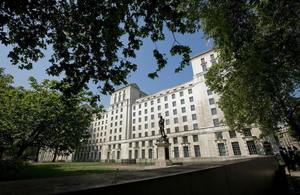 The ten-day competition saw the North Germany-based unit declared the overall divisional combined ski champion unit as well as the best team in the men's Alpine and Nordic disciplines.
The men's 1 LSR team also won the military patrol race - an event designed to test soldiers in all the essential military skills expected of them on operations, including marksmanship, map reading and physical endurance.
It is the 17th year that Germany-based 1 (UK) Armoured Division held its championships at Alpine ski resort Les Contamines-Montjoie near Mont Blanc, with more than 70 per cent of the 320 competing soldiers and officers being novice skiers.
Exercise Pipedown is part of the British Army's programme of Adventurous Training and provides an opportunity to hone important skills, enhancing individuals' abilities to withstand the rigours of operations and rapid deployments.
It also offers the opportunity for novices and experts alike to ski under international competition rules.
And this year's event, which also included soldiers based in Northern Ireland and the rest of the UK, was one of the most eventful - providing a variety of twists and turns during both the Alpine events (downhill) and the Nordic (cross country), despite the unseasonably warm conditions which resulted in icy, fast ski runs.
Sergeant Grant Douglas MacPherson, of the Joint Services Parachute Centre, finished as the best individual men's Alpine skier, winning the individual Alpine combination competition along with victories in the Giant Slalom, Super Giant Slalom and the Downhill.
The Germany-based soldier, who hails from Inverness, was only prevented from achieving a clean sweep in the Alpine discipline by Corporal White of 1 LSR who pushed him into second place in the Slalom.
In the women's Alpine events Lieutenant Collins of 28 Engineer Regiment was declared best individual female, while Captain Fewster of 4th Regiment Royal Artillery won the women's Slalom and Giant Slalom, and Captain Kirkpatrick of 39 Regiment Royal Artillery was the fastest in the Super Giant Slalom and the Downhill.
Staff Sergeant Walker of 1 LSR achieved a clean sweep of prizes in the men's Nordic, winning the individual Nordic combination, the 15km classic and the 10km biathlon sprint, while Sergeant Fowler, also of 1 LSR, emulated that achievement in the women's Nordic with victories in the 10km classic and the 7.5km biathlon sprint, helping her to claim the women's individual Nordic combination title. 1 Medical Regiment won the overall women's team Nordic competition.
Corporal Ian Bishop, of 45 Commando Royal Marines, was presented with a special award for best competitor from the Navy. During his last tour in Afghanistan in February 2009, while on foot patrol near Sangin in Helmand province, he lost both his legs when he was hit by an improvised explosive device. But just a year later he joined the military's Battle Back programme which gives injured personnel the opportunity to take part in Adventurous Training and he is now aiming to compete in the 2014 Winter Paralympics in Russia.
Vice Chairman of the Army Winter Sports Association, Brigadier Richard Dennis, described Exercise Pipedown as 'physically and mentally demanding'.
He said:
It showcases adventure training in its true sense, bringing out courage and determination in the competitors.
It is part of the wider winter programme of sports and adventure training the Army provides to give soldiers the chance to take part in all seven of the main winter sports, including Alpine and Nordic skiing, telemark, snowboarding, bobsleigh, luge and skeleton.

The number of novice skiers here is extremely encouraging, and I would say to any military personnel thinking of having a go to ask their superiors to find out more about what the Army Winter Sports Association has to offer.

You can go from novice to national level. In every Winter Olympics there has been someone who was introduced to the sport in the military.
Major General Adrian Bradshaw, General Officer Commanding 1 (UK) Armoured Division, who presented prizes to all the winners, said organising Adventurous Training opportunities such as Exercise Pipedown is part of the Army fulfilling its military covenant with soldiers.
He explained:
In these days of intense operational commitments exercises like this give our people a change, which is important for the process of coming down after an operational tour.

It is incredibly valuable and important, a chance for our people to put their hearts and souls into a different activity, a world away from Afghanistan, maintaining their health and well-being.

This is a valid military activity which develops all the traits we expect soldiers to have on operations such as good marksmanship, fitness, co-ordination, teamwork, leadership and organisation, courage, boldness and co-operation - but Pipedown is also a chance for soldiers to enjoy themselves. The Army promises a life of adventure and opportunity. This is one of those opportunities.
Exercise Pipedown took place between Sunday 9 and Monday 17 January 2011.
Published 28 January 2011