Soldiers survive IED strike thanks to Scimitar
The three soldiers of the Welsh Cavalry were on a routine patrol in Nahr-e Saraj when their Scimitar Mk2 was engulfed in an explosion. All three…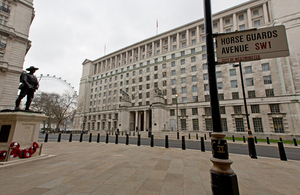 The three soldiers of the Welsh Cavalry were on a routine patrol in Nahr-e Saraj when their Scimitar Mk2 was engulfed in an explosion. All three soldiers walked away from the incident unharmed.
Vehicle commander Lieutenant Peter Gordon-Finlayson said the explosion stunned the crew for a few moments before their training took over, adding:
It felt like a car crash, and it took me a few moments to take it all in. But the training soon kicked in for all of us.

After checking that I and the crew were unharmed it only took about 30 seconds for the jokes and banter to start, which helped to alleviate the stress of what had just happened.

But I've got to say that all credit must go to the Scimitar. It really is thanks to the vehicle that we all walked away without a scratch.

The Taliban are afraid of the Scimitar 2, and are too afraid to take us on head-to-head. When we arrive in an area the insurgents tend to leave.
The three soldiers are members of B Squadron of the Queen's Dragoon Guards - the regiment's second deployment to Afghanistan.
Lance Corporal James Hatton is the Scimitar's gunner. He said:
After that experience the regiment's confidence in the new fleet has really grown. I'm looking forward to getting back onto the ground with the rest of the troop.

I was also very impressed with the speed of the recovery crew in isolating the area and recovering the vehicle. It's a big thank you from our crew to them.
Trooper Robert Griffiths, the Scimitar's driver, said the crew were in high spirits on returning to camp, but appreciated that their survival was due to the vehicle, which has been in service for just over two months. He said:
I'm massively impressed with the amount of protection the upgraded armour provided. It was obviously a shock, but I've never had such a buzz in my life.
The Scimitar Mark 2 combat vehicle is one of five enhanced Combat Vehicle Reconnaissance (Tracked) ([CVR(T)] types that began service in Helmand recently.
BAE Systems upgraded the armour on all five vehicles - Scimitar, Spartan, Samson, Sultan and Samaritan - through an urgent operational requirement process worth around £30m.
As part of the contract, the vehicles were rehulled to give better mine-blast protection for troops, and improved armour was added for enhanced resistance to blasts and ballistics, as well as new mine-blast protection seating in every position in every variant. Other enhancements include repositioned foot controls and a revamped fuel system.
Scimitar Mark 2 builds on a number of upgrades that have previously been made to the CVR(T), which address the problems experienced while operating in the harsh Afghan environment. These previous upgrades have included improved power output, new gearboxes and transmissions, air-conditioning, improved communications, air filters and night-vision systems.
Published 8 November 2011